Fontaine Family Team Testimonials June 26, 2018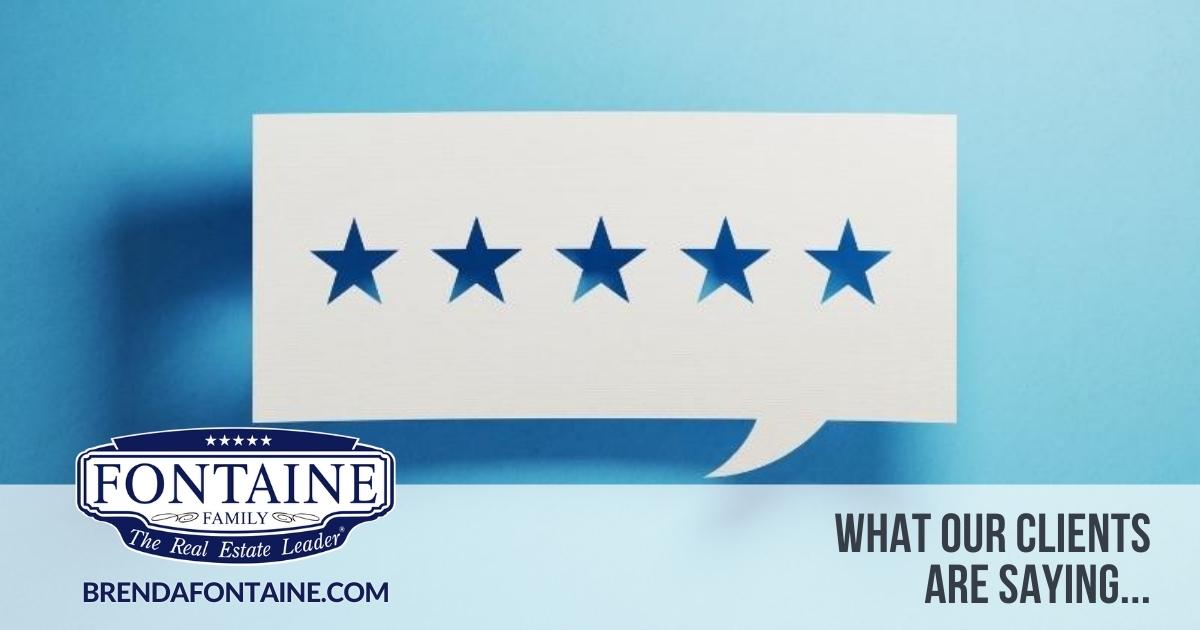 "Very thoughtful and courteous team who strive to achieve the most timely and best offer for home buying."
"If you want to sell your home this is the team you want on your side!"
"Free use of moving van is a BIG PLUS!! Wide range of advertising and family-type connectedness of staff to client."
"Assistance at every turn. OUTSTANDING SUPPORT!"
"Excellent customer service and knowledgeable staff. Experts in the local housing markets. Attention to details, listening to the needs of their clients to provide the best experience possible."
"The sales team was prompt on any questions & answers and was very good to deal with. Great staff. Great customer service."
"Fontaine Team is just ALWAYS AVAILABLE. Things were getting done in such an efficient manner it made the entire process so easy for us. The entire Fontaine Team is a well greased machine and in my opinion, movers and shakers."

"Your Team gets RESULTS! Everyone was courteous and willing to help."
"Fontaine Team listens to what you are looking for and doesn't push properties that don't fit."
"The word "TEAM" says it all! On phone, in office and in person Fontaine Team is #1!"

"I am so thankful for the Fontaine Family Team. They were honest, kept in touch, and in my case sold quickly. They were so enjoyable to work with!"
"Talked to the office to arrange the moving van - Angie was very organized and responsive! Your team is ready and willing to assist and sell."
"Everyone was very professional and SUPER helpful!"
"The team worked smoothly and effectively. Love the team approach!"
"Always clear communication and quick responses. We always felt informed with updates quickly."
"These guys are awesome! They all work together to make things happen for their clients."
"Great customer service. Line of communication was excellent."
"Everything went great! Any questions I had were answered promptly."
"Professional and always available. That's PRICELESS!"
"For an honest opinion on your property, from how to stage to items to update, to pricing, you won't get a better team! All were professional and answered questions in a timely manner."

"Great team - friendly, courteous, keeps you informed on status/updates. Always answered questions in a timely manner."








Get in touch with a Fontaine Family Team agent today!

See more Agent testimonials below!