10 Home Staging Tips and Tricks to Sell Your Home Fast February 20, 2019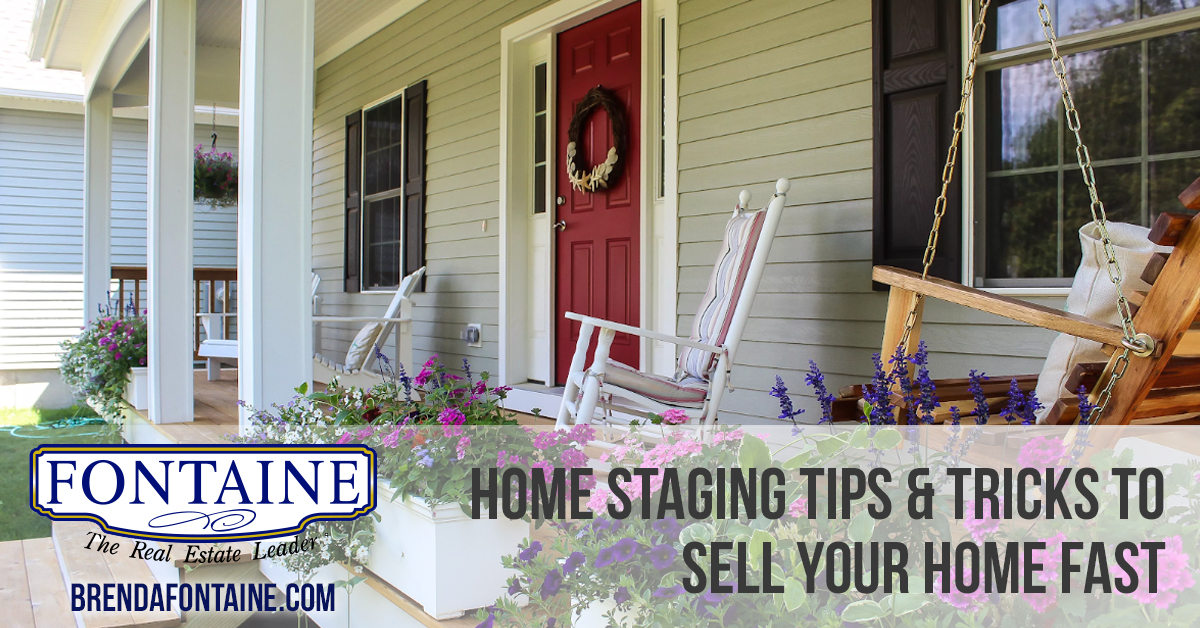 It goes without saying if you want to sell your home as quickly as possible and get the price you're asking, setting the stage for success should be first on the list of things to do. Read through these 10 tips and tricks to style your home to put your best foot forward starting with the first showing.
1. CURB APPEAL! You only have one chance to make a good first impression. There are many people that consider driving by your home first before scheduling an appointment to see it and base their decision to view the home on what they see outside. Make sure your home is ready to catch their attention as soon as they drive up by taking into consideration these maintenance tips:
- Power wash siding and walkways
- Hang easy-to-read house numbers
- Planters, flowers and fresh greenery
- Mow lawn, and reseed or add fresh sod as needed
- Wash front windows
- Repaint or stain the porch or front steps as needed
2. BE WELCOMING! No matter how big or small your entrance is, make it say 'welcome home' with a clean doormat, blooming potted plants and comfortable outdoor furniture. Also make sure to keep outdoor lighting on in case potential buyers drive ay at night. Adding solar light lining your walkway is also a special touch, especially if you have showings in the evening.
3. CLEAN! Put your best foot forward by making sure every surface sparkles – from floors to windows and even your tile grout. This might not be the quickest tip, but it is certainly the easiest and also the cheapest. Carpet cleaning is also a must so if you can't do it yourself hire a professional to insure this is done right.
4. DECLUTTER! You live in your home day in and day out and may not even notice the "stuff" you've accumulated over the years. But if you're serious about selling your home, all the clutter must go - period. It's won't be fun, but just consider it early packing. You may need to utilize offsite storage for a couple months, but it will be worth it. Clean counter surfaces, organize cupboards and closets to give the illusion of more space. This also gives an opportunity for the buyer to potentially "see" themselves living in the space.
5. CLOSETS! Be aware that potential buyers will peek inside your closets! Closet space is very important and sometimes a make-or-break if a buyer likes the house. Remove excess stuff and declutter to open up closet space so they get a good feel of size. Aim to have around 25% open space in each closet.
6. TOYS! Just because you have kids doesn't mean potential buyers also have kids and will want to see toys scattered everywhere. When people are searching for their forever home, they are imagining themselves in your home. Showing them it's possible to have a beautiful home along with an organized playroom might just sway them enough to make an offer.
7. ACCENT! It's super important that anything left out for visitors to see is in its place and pristine. Before leaving your home, take a walk around and look at every detail with a visitor's eye — focusing on bedrooms and bathrooms. Starting with the bathrooms, bars of soap should be fresh, towels hung nicely, garbage always emptied (you get the idea). Bedrooms should also follow this tidying tip — beds should be made, nothing stacked on the dressers or on the floor, personal belonging put away, etc.
8. ODORS! This one is huge! Walking in a home and noticing a funny, lingering odor might be a complete turn off. Odors live in rugs so make sure to get all rugs steam cleaned and be extra vigilant about vacuuming and washing surfaces. Pet beds and pet toys should always be put away.
9. OUTDOORS! Jazz up your outdoor living space with cozy furniture, pillows and maybe even a fire pit. Ample seating shows your home is great for entertaining as well. Potential buyers like to picture themselves relaxing in your space, so make sure this area is welcoming and easy for entertaining.
10. SEASONAL! If you're selling in the summer make sure your gardens are cleaned up and have blooming flowers. In autumn and winter, building a fire in the fireplace or light a seasonal candle to make your home welcoming.
These are just a few of the many tips to get started on staging your home for sale. And Fontaine Team is here to help you along the way. Call us today to get your home listed and for more tips to sell your home fast!
TEXT right now to 576-3798
CALL our Scarborough office at 289-3830
CALL our Auburn office 784-3800