6 Mistakes to Avoid When Buying a Home
---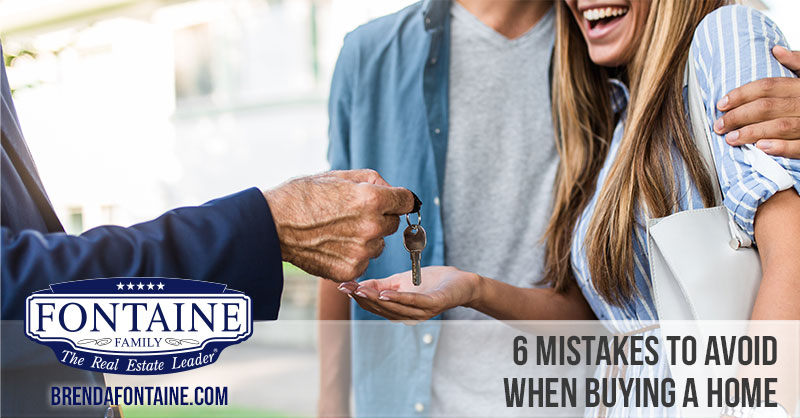 Anytime you are buying a home, it can be stressful. In today's market where it is shifting toward a seller's market, it is especially important to be prepared and to avoid missteps that could cost you a home that you have fallen in love with. Here are our top 6 Mistakes To Avoid When Buying A Home!
1. Waiting To Arrange Financing
"I am sure I won't have any problem getting a loan. I just want to find the right house first." We hear this sentence every day and I cringe every time. Today's market is competitive and homes are selling quickly. The seller is not going to wait for you to get your financing lined up. You should meet with a lender and get pre-qualified or pre-approved before you start your search. That is the only way you can be ready to make an offer when you fall in love with a home.
2. Not Using A Reputable Lender
When shopping for a lender, make sure you ask for recommendations. Your real estate agent and friends or family who have recently purchased are great resources. Don't be afraid to ask questions! Were they able to the loans they took? Did they close on time? Were there unexpected costs? Did they stay in touch during the process? This is one of the largest purchases you will make and involves a great deal of your hard earned money. Make sure who you choose to handle the financing is trustworthy.
3. Shopping Outside Your Price Range
It is tempting to "just want to take a look" at that home that is $25,000 outside your price range. In such a competitive market, this just sets you up for frustration. If you love the house, you can't make an offer that is close to asking price so it will be difficult to compete with other buyers.
4. Making Lowball Offers
You may think it can't hurt to try a lowball offer...just to see if the seller will accept. Don't assume the seller will counter offer. In a seller's market, it is not unusual for a home to sell at or above the asking price. There could be other buyers making offers at the same time. One of those offers could be better than yours. You may not get a second chance to offer. Your real estate agent can be a huge help in the negotiation process. They can compare the home you are interested in to other homes that have sold to give you the best chance at winning your bid without overpaying.
5. Spending Money After Getting Pre-Approved
Once you set up your financing for a home purchase, don't open any new accounts, don't make any big purchases on credit, don't withdraw large amount of money, don't change or quit your job. In short, don't do anything to change your finances. Your lender will re-check your credit prior to closing and if your credit score or debt-to-income ratio has changed, the lender may not be able to close your loan. It might be tempting to go buy new living room furniture, but just wait until after closing.
6. Not Planning For Closing Costs
While there are great financing options out there, almost all loans require that the buyer pay some closing costs. Your lender should be giving you an estimate of what your out of pocket costs to close should be. Make sure you talk to the lender about how much those costs could be and make sure you plan to have that available for closing day. You could also have other expenses outside of closing such as inspection costs. Your real estate agent can help you plan for those expenses.
------------
Buying your first home can be very stressful and emotional, but when you have an experienced, top-producing agent on your side, you are more likely to have a smooth and successful transaction. Contact one of our agents today to start the process of finding your forever home!
Auburn - 207-784-3800
Scarborough - 207-289-3830
TEXT - 207-576-3798
View all listings online: BrendaFontaine.com