Meet Our Team
---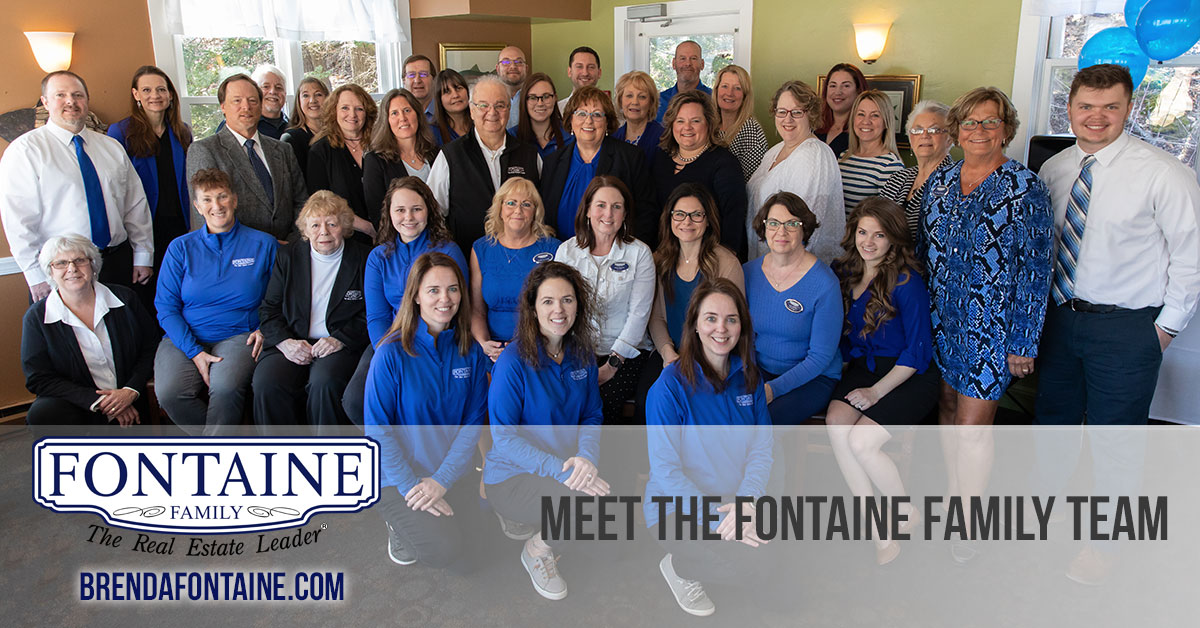 Fontaine Team's goal is to give our clients the ultimate home buying and home selling experience...
By making it as stress free and hassle free as possible and going above and beyond when opportunity presents itself. By being extremely responsive to calls, texts, and e-mails and preparing our clients for what should happen next. By educating our clients on the process and carefully listening to our clients' needs and concerns. We Listen To Understand!
OUR MISSION is to make a positive impact in the lives of those we serve and the community we love by delivering an extraordinary client experience and achieving the best possible outcome for each client. Whatever the next chapter of your story may be, let Fontaine Family Team be your guide, helping you move forward.
Each of our team members and Realtors® play an important role in the home selling process and are committed to giving you superior service!
Fontaine Family Team's talented, licensed agents include Brenda's three daughters, Melissa Fontaine-Field, Angie Fontaine-Larochelle and Crystal Fontaine-Bergeron, her two sons-in-law, Bill Bergeron and Clayton Larochelle, Brenda's grandson Dustin Larochelle, along with Harriet Cummings, Pat Long-Cressey, Cindy Morin, Diane Brule, Megan Fortin, Carlos Ortiz, Chad Doucette, Charmaine Raby, Nick Blais, Maria Morrissette, Barbara McGuire, Kathy Lee Cook, Ryan Gould, Kelly Webb, Kevin Bergeron, Michele Header, Sally Christner, Amanda Hill, David Velilla, Teri Allen Campbell, Sandra Hinkley, Tim Cyr, Doreen Jackson, Mary Ellen Burgess, Gail LaPrino, Paul Rondeau, Erin Herrick, Julianna Acheson, Nicki Therrien, Michelle Gosselin, Sue Fournier, Crystal Gardner, Anna Waldman, Dave Foster, Heather Whittier-Fadden, Bruce Mason, Deb Brackett, Steve Miller, Bri Theriault, Nykki Stevens, Lisa Collins, Melissa Cutler-Rinaldi, Nancy Beal, Melissa Guimond.
All of our agents work closely with each buyer and seller throughout the entire process including the building inspection, financing, all the way to the final walk through and closing. They all devote their time servicing the client and providing "world class" customer service by going above and beyond the call of duty. Daily property searches are conducted and buyers are contacted immediately so you can be the first to view a home. Get in touch with an Agent today!
Auburn Agents - 336 Center Street
Anna Waldman - (207)212-9633 - awaldman53@gmail.com
Barbara McGuire - (207)713-7355 - barbara@fontaineteam.com
Bill Bergeron - (207)576-6523 - bill@fontaineteam.com
Bri Theriault - (207)212-1294 - bri@fontaineteam.com
Bruce Mason - (207)576-4638 - brucemasonrealtor@gmail.com
Chad Doucette - (207)357-3778 - chad@fontaineteam.com
Charmaine Raby - (207)577-1034 -charmaine@fontaineteam.com
Cindy Morin - (207)576-7896 - cindy@fontaineteam.com
Clayton Larochelle - (207)576-6524 - clay@fontaineteam.com
Crystal Gardner - (207)740-2958 - CrystalGardnerRealtor@yahoo.com
Dave Foster - (207)415-7501 - davidfoster@fontaineteam.com
David Velilla - (207)392-5079 - david@fontaineteam.com
Deb Brackett - (207)650-2348 - debbrackett12@gmail.com
Diane Brule - (207)212-1987 - diane@fontaineteam.com
Doreen Jackson - (207)212-6677 - doreen@fontaineteam.com
Dustin Larochelle - (207)576-0953 - dustin@fontaineteam.com
Harriet Cummings - (207)577-6944 - harriet@fontaineteam.com
Heather Whittier-Fadden - (207)315-1417 - heather@fontaineteam.com
Kathy Lee Cook - (207)751-0902- kathylee@fontaineteam.com
Kelly Webb - (207)212-7445 - kelly@fontaineteam.com
Kevin Bergeron - (207)740-4975 - kevin@fontaineteam.com
Megan Fortin - (207)330-0858 - megan@fontaineteam.com
Melissa Cutler-Rinaldi - (207)440-0139 - melissarinaldi@fontaineteam.com
Melissa Guimond - (207)577-0918 - melissa.guimond@fontaineteam.com
Michelle Gosselin - (207)754-4998 - michellegosselin@fontaineteam.com
Nick Blais - (207)740-2716 - nickblais@fontaineteam.com
Nicki Therrien - (207)754-2858 - nickitherrien@live.com
Nykki Stevens - (207)576-3803 - n.stevens710@gmail.com
Pat Long-Cressey - (207)212-9541 - pat@fontaineteam.com
Richard Potvin - (207)212-4013 - rpotvin@potvinrealty.com
Ryan Gould - (207)441-5749 - ryangould@fontaineteam.com
Sandra Hinkley - (207)650-7827 - sandrahinkley@aol.com
Steve Miller - (207)212-8634 - smillerrealtor@gmail.com
Sue Fournier - (207)576-0366 - sue.fontainefamily@gmail.com
Teri Allen Campbell - (207)576-4180 - teri@fontaineteam.com
Scarborough Agents - 432 US Route 1
Amanda Hill - (207)240-0611 - amanda@fontaineteam.com
Carlos Ortiz - (207)713-4371 - carlos@fontaineteam.com
Erin Herrick - (207)650-9103 - erin@fontaineteam.com
Gail LaPrino - (207)400-9504 - gail@fontaineteam.com
Julianna Acheson - (207)491-6282 - julianna.acheson@hotmail.com
Lisa Collins - (207)710-3326 - lisa@fontaineteam.com
Maria Morrissette - (207)749-8779 - maria@fontaineteam.com
Mary Ellen Burgess - (207)318-1292 - maryellen@fontaineteam.com
Michele Header - (207)318-8878 - michele@fontaineteam.com
Paul Rondeau - (207)229-7613 - paul@fontaineteam.com
Tim Cyr - (860)559-2911 - tim@fontaineteam.com
Fontaine Referral Agency
Nancy Beal - (207)751-0752 - nancybeal65@gmail.com
Support Staff
The dedicated agents of the Fontaine Team are backed up by a strong support staff. Having a highly trained staff means there is always someone available to take your call and working behind the scenes to make each transaction as smooth as possible.
Melissa Fontaine-Field - Auburn Office Manager/Closing Coordinator/Short Sale Specialist - Melissa keeps the Auburn office running smoothly. She is in the office to help with the daily tasks that arise in a transaction to bring it to a seamless close. She also works tirelessly on our short-sale properties to bring about a positive result for both buyer and seller.
Claude Fontaine - Bookkeeper - Claude maintains all the financial records of the company and manages the escrow accounts.
Crystal Fontaine-Bergeron - Lead Manager/REO Specialist/Staff Leader - Crystal handles management and disposition for bank owned properties, hires all service companies needed and networks with all the bank owners. Additionally, she also handles all e-mail inquiries on your property, assigning each e-mail to one of our buyer agents immediately. It is our practice to respond to all e-mail inquiries within 24 hours excluding weekends and holidays. She is the go-to for staff questions to keep the office running smoothly.
Angie Fontaine-Larochelle - Daily Operations Manager/Showing & Feedback Coordinator - Angie sets up showings and follows up with the feedback after each showing. The purpose of feedback is to encourage the buyer to write up a contract by overcoming their objections and addressing any of the buyer's issues. She also keeps sellers up to date monthly with comparable properties that have sold and new comparable properties recently on the market, so sellers can be up to date with what the market is doing.
Amanda Swart - Listing Manager/Front Desk Auburn - working alongside staff members to help with daily tasks, also answering the phone and greeting clients at our Auburn location.
Crystal Gardner - Assistant Listing Manager/Front Desk Auburn/Realtor - working alongside staff members to help with daily tasks, also answering the phone and greeting clients at our Auburn location.
Sally Christner - Sales Manager - Sally keeps our Scarborough office running smoothly which includes training our new agents as well as conducting team meetings when needed.

Brie Knowlton - Marketing Director - Brie creates marketing and promotional material, working closely with Brenda to develop new marketing ideas in an ongoing basis. She handles all internet marketing and further development on the brendafontaine.com website. Brie also handles all social media platforms such as Facebook, Twitter, Instagram, LinkedIn, Pinterest and YouTube.

Tammy Soucy - Field Coordinator - Tammy is the team photographer and photographs each new listing and measures every room. She installs our "for sale" signs at your property and lock boxes as well.

------------
2019 Maine Family Owned Business of the Year - Holiday Inn By the Bay First Generation Award Recipient
------------