Renting vs. Buying June 20, 2018

Renting vs. Buying Guide

The chart below shows a cost comparison for a renter and a homeowner over a 7 year period.

The renter starts out paying $800 per month with annual increases of 5%. The homeowner purchases a home for $110,000 and pays a monthly mortgage of $1,000. After 6 years, the homeowner's payment is lower than the renter's monthly payment. With the tax savings of homeownership, the homeowner's payment is less than the rental payment after 3 years!




Buy vs. Rent Comparison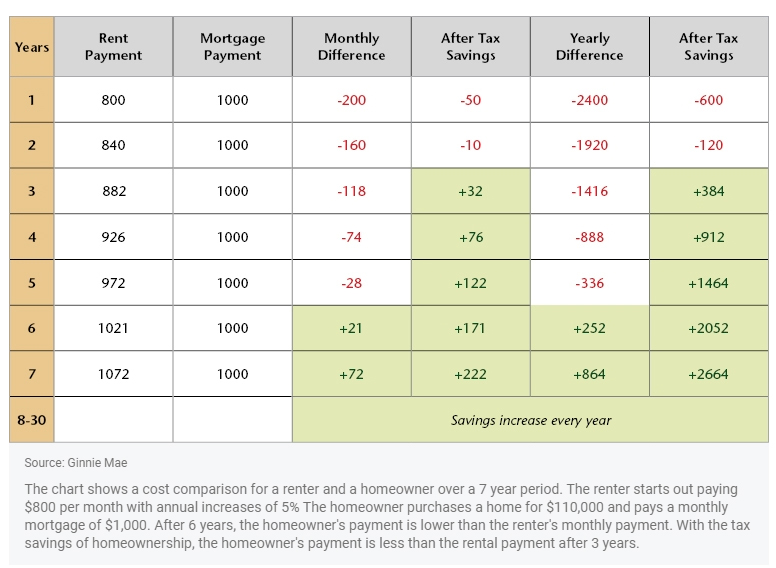 Are You Ready to Buy? Ask yourself these questions:
Are you planning to stay in the area?
If you are planning staying put for a long time, buying may be a good option for you.
Do you have good credit?
If your credit is good and you don't have too much debt, buying may be a good option for you.
Do you have money for a down payment?
Obtaining a mortgage requires a down payment, so if you don't have some money put away, you may want to start saving for a down payment and other costs of buying.
Other Things to Consider:
Additional costs
Besides your mortgage, when you own a home you are responsible for taxes, insurance and maintenance of the property. Make sure to take these costs into consideration when figuring your finances…it often still makes sense to buy instead of rent!
Repairs & Maintenance
When you rent, the landlord usually takes care of mowing, plowing, and repairs to things that go wrong. Once you own a home, these become your responsibility. Plan for having the skills and/or funds needed to take care of the maintenance and repairs that come along with home ownership.
Equity
When you purchase a home, you can build equity in the home by doing improvements and updates to the home. As long as housing prices continue to rise, you can be earning equity in your home. Your home isn't a checking account…you can't just pull the cash out of your home to take a vacation…but in the long run, you can get back part of or maybe even more that what you paid into your home when it sells. You can't say that about the rent you pay to your landlord!
Get Started Today!

Are you ready to talk more about buying a home?
Give us a call in Auburn at (207)784-3800 or in Scarborough at (207)289-3830 for a FREE consultation with one of our buyer agents.