10 Reasons To List Your Home During Holidays December 1, 2021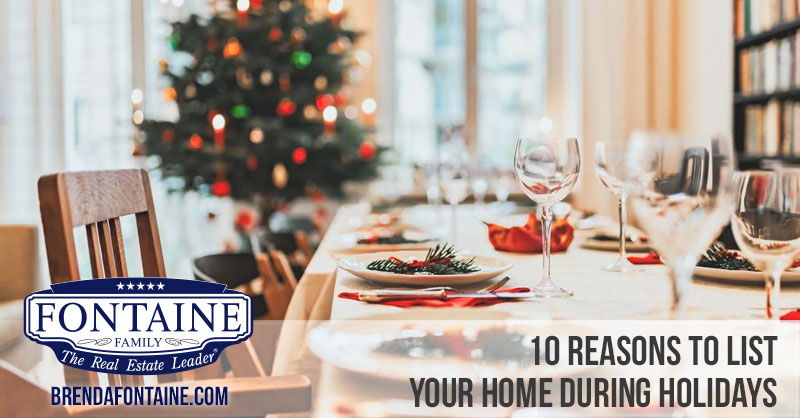 As we are quickly approaching the holiday season, one of the top questions we receive about selling a home is "Should I sell my home during the holidays?" Depending on who you discuss this topic with, you're going to receive mixed opinions. Some people will say you should absolutely not list your home during the holidays and should wait until after the new year. Others will say that you should list your home during the holidays.
Before we dig into our top 10 cheerful reasons to list your home during the holidays, we always like to make it clear with sellers that in most situations, the spring is the best time to list your home. There may be a stigma that selling a home during the holidays is a terrible idea, but there are many cheerful reasons to list your home during the holidays which may be a surprise to many. As you're deciding whether to list your home during the holidays or not, you should always evaluate the timing that seems to be the best fit for you.
Below you'll learn our top 10 reasons to list your home during the holidays.
Homeowners who are deciding between whether they should list their home during the holidays or if they should wait and prepare for the spring real estate market, must consider these 10 reasons first before deciding.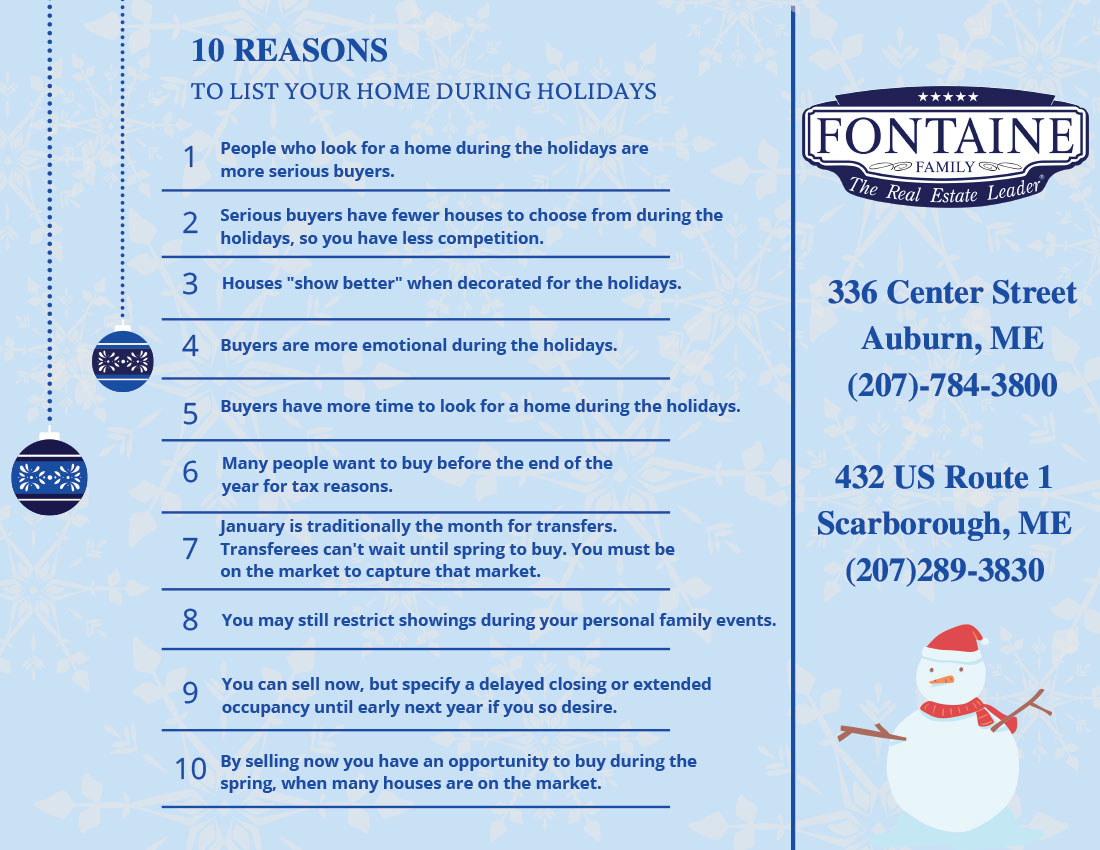 People who look for a home during the holidays are
more serious buyers.
Serious buyers have fewer houses to choose from during the
holidays, so you have less competition.
Houses "show better" when decorated for the holidays.
Buyers are more emotional during the holidays.
Buyers have more time to look for a home during the holidays.
Many people want to buy before the end of the
year for tax reasons.
January is traditionally the month for transfers. Transferees can't
wait until spring to buy. You must be on the market to capture that market.
You may still restrict showings during your personal family events.
You can sell now, but specify a delayed closing or extended
occupancy until early next year if you so desire.
By selling now you have an opportunity to buy during the
spring, when many houses are on the market.
---
Fontaine Family – The Real Estate Leader is a highly skilled real estate team of licensed professionals dedicated to focusing on the client. Fontaine was awarded 2019 Maine Family Business of the Year, voted Best Real Estate Company in the Greater Lewiston/Auburn Area and Greater Portland Area, recognized by Real Trends as a 2019 America's Top 250 Real Estate Team and published in the Wall Street Journal in the Top 250 Real Estate Professionals ranking in the top ½ of 1% of Realtors outperforming 99.9% of the nation's Realtors.
The Fontaine Family Team serves 8 counties – Androscoggin, Cumberland, York, Sagadahoc, Oxford, Kennebec, Franklin and Somerset – in two locations, 336 Center Street in Auburn and 432 US Route One in Scarborough. For more information visit BrendaFontaine.com or call (207)784-3800 or (207)289-3830.