Diving Deep into Today's Biggest Buyer Concerns July 19, 2021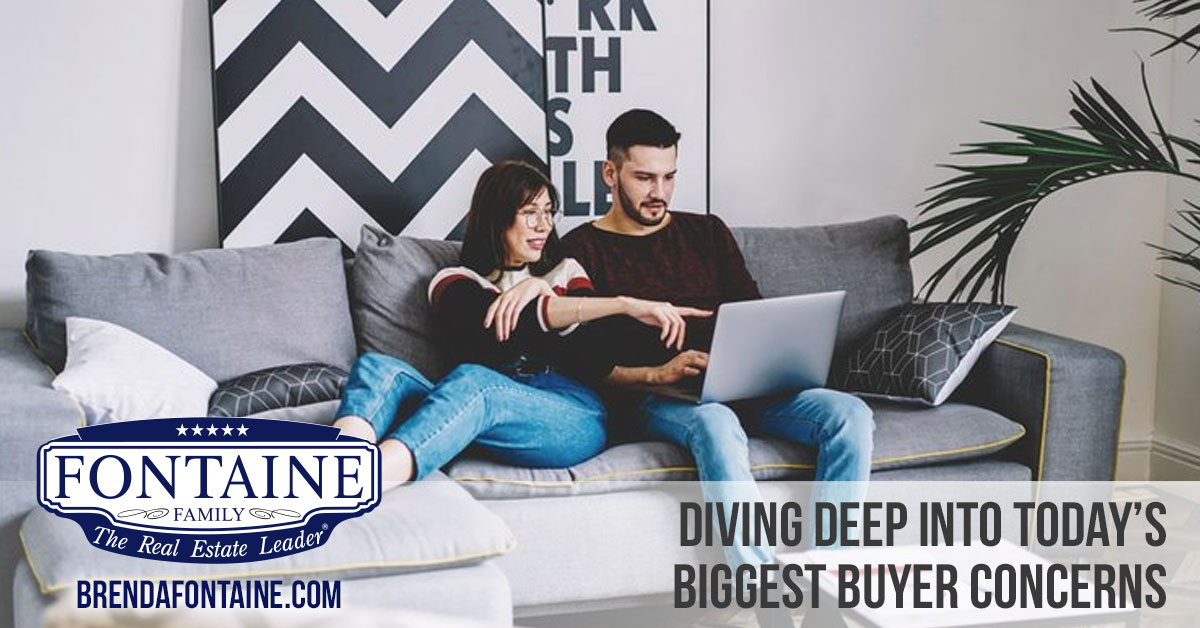 Last week, Fannie Mae released their Home Purchase Sentiment Index (HPSI). Though the survey showed 77% of respondents believe it's a "good time to sell," it also confirms what many are sensing: an increasing number of Americans believe it's a "bad time to buy" a home. The percentage of those surveyed saying it's a "bad time to buy" hit 64%, up from 56% last month and 38% last July.
The latest HPSI explains:
"Consumers also continued to cite high home prices as the predominant reason for their ongoing and significant divergence in sentiment toward homebuying and home-selling conditions. While all surveyed segments have expressed greater negativity toward homebuying over the last few months, renters who say they are planning to buy a home in the next few years have demonstrated an even steeper decline in homebuying sentiment than homeowners. It's likely that affordability concerns are more greatly affecting those who aspire to be first-time homeowners than other consumer segments."


Let's look closely at the market conditions that impact home affordability.
A mortgage payment is determined by the price of the home and the mortgage rate on the loan used to purchase it. Lately, monthly mortgage payments have gone up for buyers for two key reasons:
Mortgage rates have increased from 2.65% this past January to 2.9%.
Home prices have increased by 15.4% over the last 12 months.
Based on these rising factors, a home may be less affordable today, but it doesn't mean it's not affordable.
Three weeks ago, ATTOM Data released their second-quarter 2021 U.S. Home Affordability Report which explained that the major ownership costs on the typical home as a percent of the average national wage had increased from 22.2% in the second quarter of 2020 to 25.2% in the second quarter of this year. They also went on to explain:
"Still, the latest level is within the 28 percent standard lenders prefer for how much homeowners should spend on mortgage payments, home insurance and property taxes."
In the same report, Todd Teta, Chief Product Officer with ATTOM, confirms:
"Average workers across the country can still manage the major expenses of owning a home, based on lender standards."
It's true that monthly mortgage payments are greater than they were last year (as the ATTOM data shows), but they're not unaffordable when compared to the last 30 years. While payments have increased dramatically during that several-decade span, if we adjust for inflation, today's mortgage payments are 10.7% lower than they were in 1990.
What's that mean for you? While you may not get the homebuying deal someone you know got last year, that doesn't mean you shouldn't still buy a home. Here are your alternatives to buying and the trade-offs you'll have with each.


Alternative 1: I'll rent instead.
Some may consider renting as the better option. However, the monthly cost of renting a home is skyrocketing. According to the July National Rent Report from Apartment List:
"…So far in 2021, rental prices have grown a staggering 9.2%. To put that in context, in previous years growth from January to June is usually just 2 to 3%. After this month's spike, rents have been pushed well above our expectations of where they would have been had the pandemic not disrupted the market."
If you continue to rent, chances are your rent will keep increasing at a fast pace. That means you could end up spending significantly more of your income on your rental as time goes on, which could make it even harder to save for a home.


Alternative 2: I'll wait it out.
Others may consider waiting for another year and hoping that purchasing a home will be less expensive then. Let's look at that possibility.
We've already established that a monthly mortgage payment is determined by the price of the home and the mortgage rate. A lower monthly payment would require one of those two elements to decrease over the next year. However, experts are forecasting the exact opposite:
The Mortgage Bankers Association (MBA) projects mortgage rates will be at 4.2% by the end of next year.
The Home Price Expectation Survey (HPES), a survey of over 100 economists, investment strategists, and housing market analysts, calls for home prices to increase by 5.12% in 2022.
Based on these projections, let's see the possible impact on a monthly mortgage payment: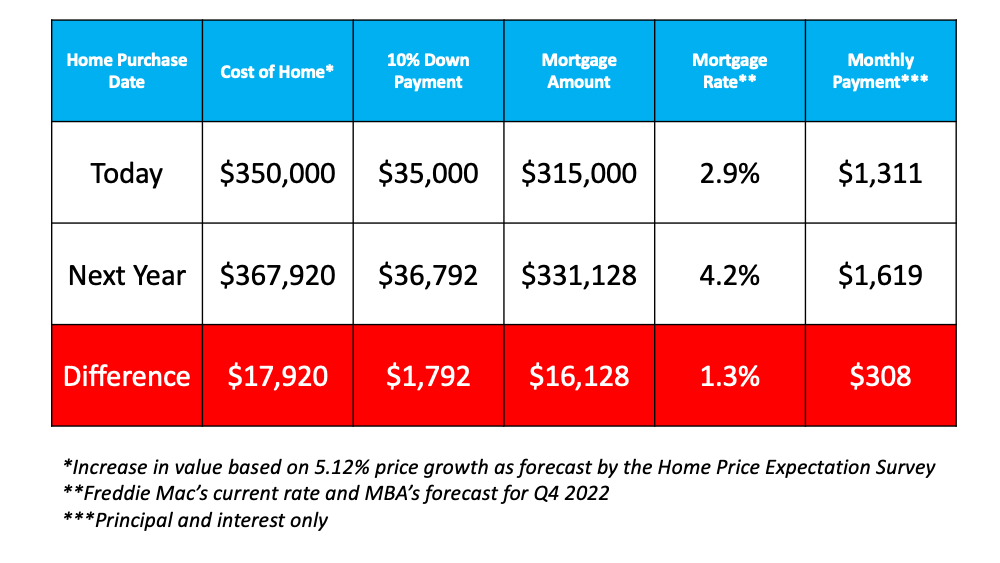 By waiting until next year, you'd potentially pay more for the home, need a larger down payment, pay a higher mortgage rate, and pay an additional $3,696 each year over the life of the mortgage.


Bottom Line
While you may have missed the absolute best time to buy a home, waiting any longer may not make sense. Mark Fleming, Chief Economist at First American, says it best:
"Affordability is likely to worsen before it improves, so try to buy it now, if you can find it."
---
Fontaine Family – The Real Estate Leader is a highly skilled real estate team of licensed professionals dedicated to focusing on the client. Fontaine was awarded 2019 Maine Family Business of the Year, voted Best Real Estate Company in the Greater Lewiston/Auburn Area and Greater Portland Area, recognized by Real Trends as a 2019 America's Top 250 Real Estate Team and published in the Wall Street Journal in the Top 250 Real Estate Professionals ranking in the top ½ of 1% of Realtors outperforming 99.9% of the nation's Realtors.
The Fontaine Family Team serves 8 counties – Androscoggin, Cumberland, York, Sagadahoc, Oxford, Kennebec, Franklin and Somerset – in two locations, 336 Center Street in Auburn and 432 US Route One in Scarborough. For more information visit BrendaFontaine.com or call (207)784-3800 or (207)289-3830.