Dreaming of owning a Vacation Home? Make it a reality! March 6, 2019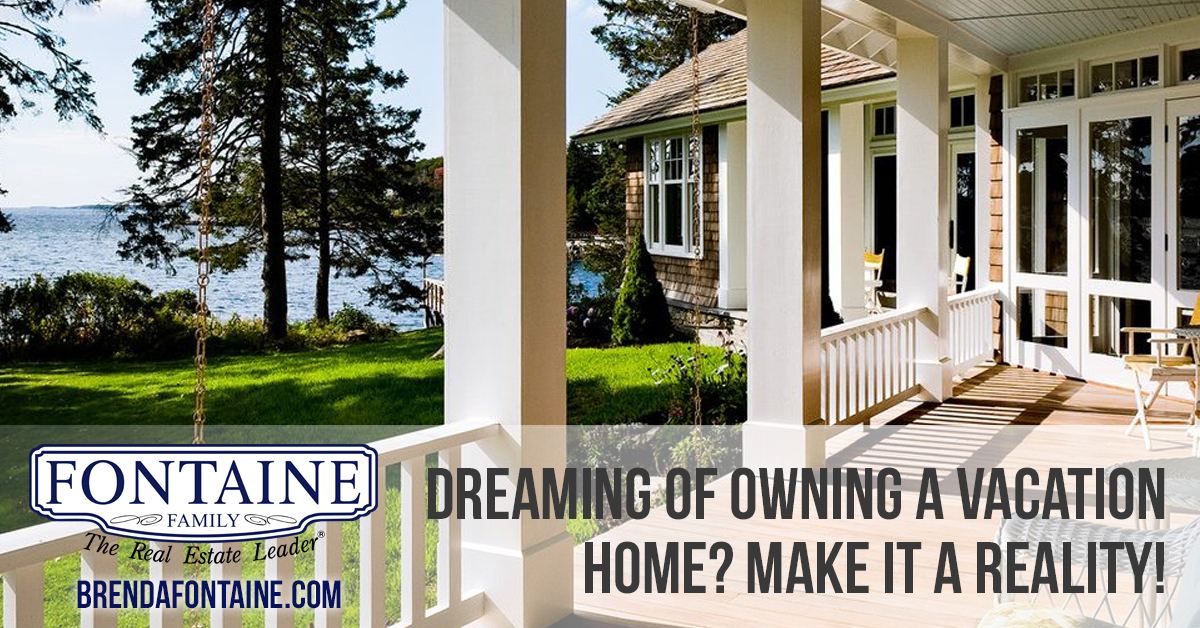 Do you spend all winter dreaming of summer? You're not alone! The dream of retreating to your very own beach side condo, cabin in the woods or lakeside cottage may not be as far off from reality as you may think. If you are lucky enough to be in a position to consider buying a second home, maybe all you need is a firm vision of your long-term goals to make this dream a reality.
Consider a fixer-upper
This may have not crossed your mind, but many of these properties may only need a little personal "sweat equity" to reach their full potential. But be careful - you could either find yourself neck-deep in a money pit or sitting on top of a gold mine. That's why it's important to know what to look for before you set out on your search. Having a knowledgeable real estate agent to guide you through the process is definitely a must. They can also refer you to qualified professionals in the area to assist you and make your renovations get completed quickly.
Careful planning
The easiest way to put a vacation home or second home within reach is to simply save for it. If necessary, set money aside on a regular schedule with a goal in mind before considering a second home. But consider this...the longer you're living in your home often means household income also increases, so you may be better able to continue paying down your first mortgage while taking on the expenses of a second home. Also by having an active mortgage first, this will show you're committed to responsibly paying your loans and the likelihood a lender will approve a mortgage for a second property increases significantly.
TIP: Don't commit to buy until you can make a down payment that doesn't empty your bank account.
Set a budget you know you can live with and stick to it.
Share the space
Diving in feet first might not be the route you want to take when purchasing your first vacation or second home. This is an important decision and one you should not take lightly. Consider sharing ownership so the financial and maintenance responsibilities are divided and become less of a burden. Of course, the downside is this also means you'll be sharing access, so you can't come and go as you please. This option may only make sense if you're considering occasional access to the property. Either way, make sure you carefully consider.
Consider renting first
If you're somewhat uncertain about owning another property, think about how often you think you would use a second home. Then do the math on what it would cost to rent a property for the same length of time. This may show renting over the long term is less expensive until you're ready to commit to ownership. You might fall in love with a particular rental home and want to continue visiting year after year. Try discussing your situation with the owner of the property to strike up a deal and possibly a contract allowing you to rent their property consecutively for any number of years. In turn, the owner, knowing they are guaranteed a paying tenant, may be willing to offer a lower rate.
A common misconception is that second homes are strictly for the wealthy.
According to a recent article in Forbes, 2019 may be the year to invest in a vacation home.
Start your search with Fontaine Family
Working with a local real estate agent is the first crucial step to finding your vacation home. Local agents would be far more knowledgeable with local laws and building codes, can walk you through the buying process and help negotiate a purchase price that's in line with today's current property values. They can also introduce you to the community and make you feel at home with what it has to offer.
At Fontaine Team, we're here to help you sell your home or find your dream home. Call us today to start getting current listings or for more tips to sell your home fast!
TEXT right now to 576-3798
CALL our Scarborough office at 289-3830
CALL our Auburn office 784-3800