Our Continued Response to COVID-19 April 1, 2020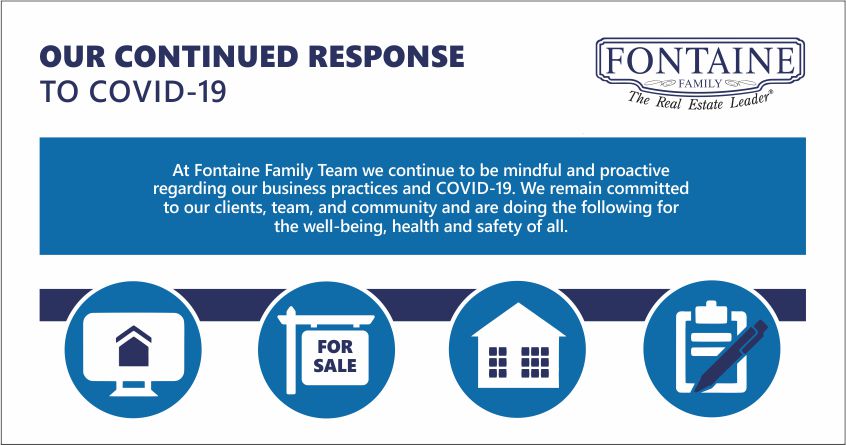 At Fontaine Family Team we continue to be mindful and proactive regarding our business practices and COVID-19. We remain committed to our clients, team, and community and are doing the following for the well-being, health and safety of all.
VIRTUAL SHOWINGS
We are now offering virtual showings to buyers and individuals who may have concerns about viewing a home in-person
This is a great option to stay in-line with suggested social distancing procedures
Agents can coordinate virtual showings via a video or FaceTime
WHEN PREPARING TO VIEW A HOME
Viewing groups are to be kept to decision makers only
If you or anyone in your family has felt unwell in the past 14 days, we ask that you hold off on in-person showings at this time
Concerned? Reach out to your agent before the showing to get a sense of what to expect and how you can do your part in keeping everyone healthy and safe.
WHEN VIEWING A HOME
Social distancing procedures will be in use
Hand sanitizer must be used upon entering and exiting a home
Hand washing after entering, if soap and paper towels are available
Remove shoes/use shoe coverings as instructed by agent/seller
Use gloves or disinfecting wipes when touching any surface
Minimize contact with surfaces, appliances, cabinets, etc.
ADDITIONAL IMPORTANT INFORMATION
Our No Open House Policy continues until further notice! Talk to your agent about our new virtual open house option or Facebook Live open house.
Our offices are open for business allowing agents and staff to have access to the office as needed.
Many paperwork and meeting procedures can be completed virtually. Talk to your agent about these options.
WE ARE HERE FOR YOU! Please do not hesitate to reach out if you have any questions or concerns.
207-784-3800 Auburn or 207-289-3830 Scarborough