With Mortgage Rates Climbing, Now Is the Time To Act January 25, 2022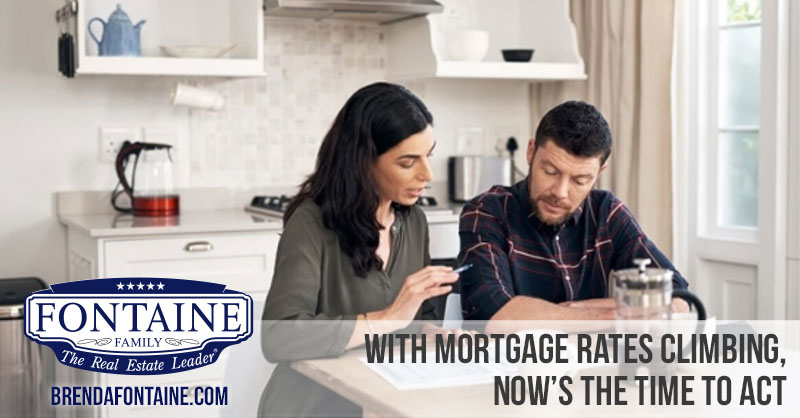 Last week, the average 30-year fixed mortgage rate from Freddie Mac jumped from 3.22% to 3.45%. That's the highest point it's been in almost two years. If you're thinking about buying a home, this news may have come as a bit of a shock. But the truth is, it wasn't entirely unexpected. Experts have been calling for rates to rise in their 2022 projections, and the forecast is now becoming a reality. Here's a look at the projections from Freddie Mac for this year:
Q1 2022: 3.4%
Q2 2022: 3.5%
Q3 2022: 3.6%
Q4 2022: 3.7%
As the numbers show, this jump in rates is in line with the expectations from Freddie Mac. And what they also indicate is that mortgage rates are projected to continue climbing throughout the year. But should you be worried about rising mortgage rates? What does that really mean for you?
As rates increase even modestly, they impact your monthly mortgage payment and overall affordability. If you're looking to buy a home, rising mortgage rates should be an incentive to act sooner rather than later.
The good news is, even though rates are climbing, they're still worth taking advantage of.
Historical data shows that today's rate, even at 3.45%, is still well below the average for each of the last five decades (see chart below):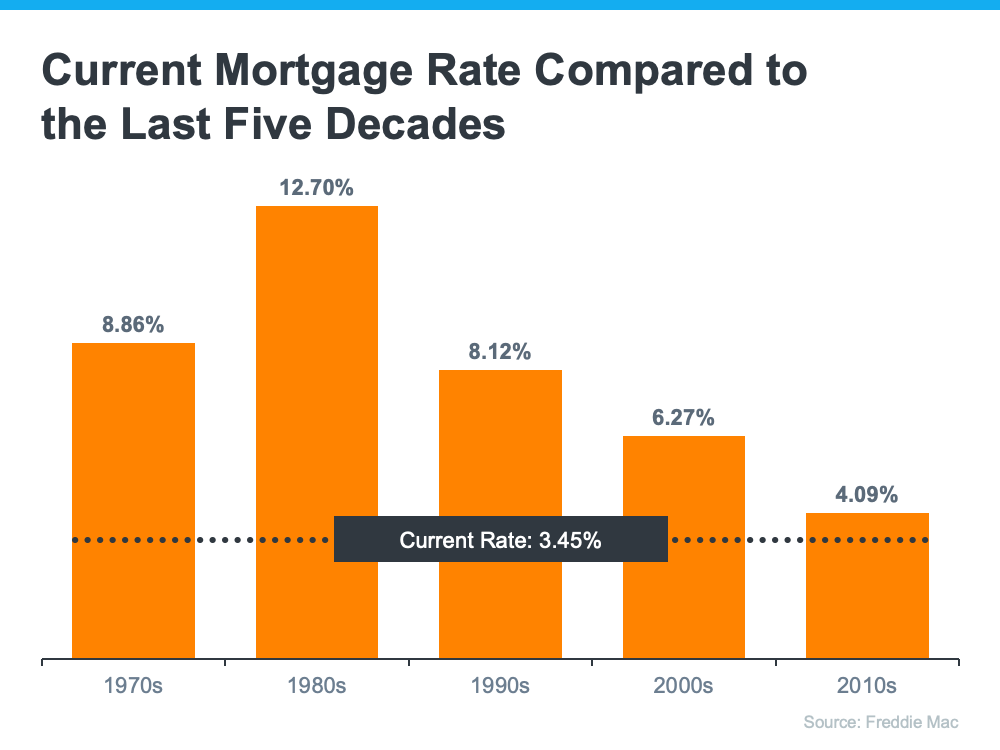 That means you still have a great opportunity to buy now with a rate that's better than what your loved ones may have paid in decades past. If you buy a home while rates are in the mid-3s, your monthly mortgage payment will be locked in at that rate for the life of your loan. As you can see from the chart above, a lot can change in that time frame. Buying now is a great way to protect yourself from rising costs and future rate increases while also securing your payment amount for the long term.
Nadia Evangelou, Senior Economist and Director of Forecasting at the National Association of Realtors (NAR), says:
"Mortgage rates surged in the second week of the new year. The 30-year fixed mortgage rate rose to 3.45% from 3.22% the previous week. If inflation continues to grow at the current pace, rates will move up even faster in the following months."
Bottom Line
Mortgage rates are increasing, and they're forecast to be even higher by the end of 2022. If you're planning to buy this year, acting soon may be your most affordable option. Let's connect to start the homebuying process today.
---
Fontaine Family – The Real Estate Leader is a highly skilled real estate team of licensed professionals dedicated to focusing on the client. Fontaine was awarded 2019 Maine Family Business of the Year, voted Best Real Estate Company in the Greater Lewiston/Auburn Area and Greater Portland Area, recognized by Real Trends as a 2019 America's Top 250 Real Estate Team and published in the Wall Street Journal in the Top 250 Real Estate Professionals ranking in the top ½ of 1% of Realtors outperforming 99.9% of the nation's Realtors.
The Fontaine Family Team serves 8 counties – Androscoggin, Cumberland, York, Sagadahoc, Oxford, Kennebec, Franklin and Somerset – in two locations, 336 Center Street in Auburn and 432 US Route One in Scarborough. For more information visit BrendaFontaine.com or call (207)784-3800 or (207)289-3830.
The information contained, and the opinions expressed, in this article are not intended to be construed as investment advice. Fontaine Family - The Real Estate Leader does not guarantee or warrant the accuracy or completeness of the information or opinions contained herein. Nothing herein should be construed as investment advice. You should always conduct your own research and due diligence and obtain professional advice before making any investment decision. Fontaine Family - The Real Estate Leader will not be liable for any loss or damage caused by your reliance on the information or opinions contained herein.