As a top Realtor®, Brenda does not work alone.
As a matter of fact her business is truly a family affair.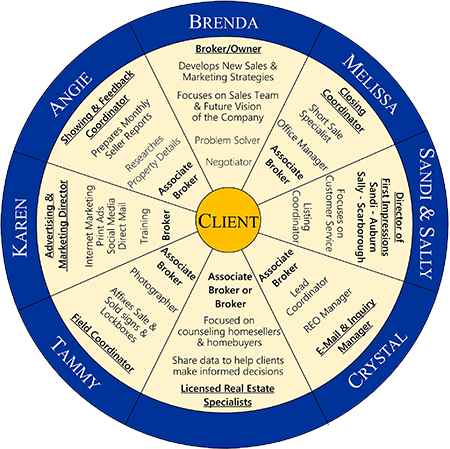 Meet The Fontaine Family Team!
Brenda's two sons-in-law, Bill Bergeron and Clayton Larochelle, along with Beth Favreau, Nick Trider, Harriet Cummings, Pat Long-Cressey, Cindy Morin, Diane Brule, Megan Fortin, Carlos Ortiz, Chad Doucette, Charmaine Raby, Dawn Marston, Nick Blais, Maria Morrissette, Matt Zimmerman, Maryanne Bear, Barbara McGuire, Kathy Lee Cook, Ryan Gould, Kelly Webb, Kevin Bergeron, Sarah Higgins, Jeff Ham, Michele Header, Sally Christner, Kevin Hanscombe, Amanda Hill, Sandra Godin, Ashleigh Hill, Jamie Crain, David Velilla, Teri Allen, Caleb Labrie, Sandra Hinkley, Tim Cyr, Chad Doucette, Doreen Jackson, and Gail LaPrino are the Fontaine Family Team's talented, licensed agents. They all devote their time servicing the client and providing "world class" customer service by going above and beyond the call of duty.
Daily computer searches are done and buyers are contacted immediately if something comes up that fits their criteria.
All of our agents work closely with each buyer and seller throughout the whole buying process including the building inspection, financing, etc., all the way to the final walk through. You can contact them by phone or e-mail.
Auburn Location
Barbara McGuire - (207)713-7355 - barbara@fontaineteam.com
Beth Favreau - (207)576-1933 - beth@fontaineteam.com
Bill Bergeron - (207)576-6523 - bill@fontaineteam.com
Caleb Labrie - (207)754-4275 - caleb@fontaineteam.com
Chad Doucette - (207)357-3778 - chad@fontaineteam.com
Charmaine Raby - (207)577-1034 -charmaine@fontaineteam.com
Cindy Morin - (207)576-7896 - cindy@fontaineteam.com
Clayton Larochelle - (207)576-6524 - clay@fontaineteam.com
David Velilla - (207)392-5079 - david@fontaineteam.com
Diane Brule - (207)212-1987 - diane@fontaineteam.com
Doreen Jackson - (207)212-6677 - doreen@fontaineteam.com
Harriet Cummings - (207)577-6944 - harriet@fontaineteam.com
KathyLee Cook - (207)751-0902- kathylee@fontaineteam.com
Kelly Webb - (207)212-7445 - kelly@fontaineteam.com
Kevin Bergeron - (207)740-4975 - kevin@fontaineteam.com
Megan Fortin - (207)330-0858 - megan@fontaineteam.com
Nick Blais - (207)740-2716 - nickblais@fontaineteam.com
Nick Trider - (207)577-7172 - nicholastrider@gmail.com
Pat Long-Cressey - (207)212-9541 - pat@fontaineteam.com
Ryan Gould- (207)441-5749 - ryangould@fontaineteam.com
Sally Christner - (207)240-2474 - sally@fontaineteam.com
Sandra Hinkley - (207)650-7827 - sandrahinkley@aol.com
Teri Campbell - (207)576-4180 - teri@fontaineteam.com
Scarborough Location
Amanda Hill - (207)240-0611 - amanda@fontaineteam.com
Ashleigh Hill - (207)577-0285 - ashleigh@fontaineteam.com
Carlos Ortiz - (207)713-4371 - carlos@fontaineteam.com
Dawn Marston - (207)939-2827 - dawn@fontaineteam.com
Erin Herrick - (207)650-9103 - erin@fontaineteam.com
Gail Laprino - (207)400-9504 - gail@fontaineteam.com
Jamie Crain - (207)232-1149 - jamie@fontaineteam.com
Kevin Hanscombe - (207)576-8880 - kevin.myhousesold@gmail.com
Maria Morrissette - (207)749-8779 - maria@fontaineteam.com
MaryAnne Bear - (207)730-0491 - maryanne@fontaineteam.com
Mat Zimmerman - (207)200-8780 - mathew@fontaineteam.com
Michele Header - (207)318-8878 - michele@fontaineteam.com
Sarah Higgins - (207)229-7693 - sarah@fontaineteam.com
Sandra Godin - (207)650-1498 - sandra@fontaineteam.com
Tim Cyr - (860)559-2911 - tim@fontaineteam.com
Working out of Both Auburn & Scarborough
Bill Bergeron - (207)576-6523 - bill@fontaineteam.com
Clay Larochelle - (207)576-6524 - clay@fontaineteam.com
Maria Morrissette - (207)749-8779 - maria@fontaineteam.com
Nick Trider - (207)577-7172 - nick@fontaineteam.com
Pat Long-Cressey - (207)212-9541 - pat@fontaineteam.com
Sandra Godin - (207)650-1498 - sandra@fontaineteam.com
The dedicated agents of the Fontaine Team are backed up by a strong support staff. Having a highly trained staff means there is always someone available to take your call and working behind the scenes to make each transaction as smooth as possible.
Melissa Fontaine-Field - Auburn Office Manager/Closing Coordinator/Short Sale Specialist - Melissa keeps the Auburn office running smoothly. She is in the office to help with the daily things that arise in a transaction to bring it to a seamless close. She also works tirelessly on our short-sale properties to bring about a positive result for both buyer and seller.

Claude Fontaine - Bookkeeper - Claude maintains all the financial records of the company and manages the escrow accounts.
Crystal Fontaine-Bergeron - Lead Manager/REO Specialist/Staff Leader - Crystal handles management and disposition for bank owned properties, hires all service companies needed, and networks with all the bank owners. Additionally, she also handles all e-mail inquiries on your property, assigning each e-mail to one of our buyer agents immediately. It is our practice to respond to all e-mail inquiries within 24 hours excluding weekends and holidays. She is the go-to for staff questions to keep the office running smoothly.

Angie Fontaine-Larochelle - Showing & Feedback Coordinator - Angie sets up showings and follows up with the feedback after each showing. The purpose of feedback is to encourage the buyer to write up a contract by overcoming their objections and addressing any of the buyer's issues. She also keeps sellers up to date monthly with comparable properties that have sold and new comparable properties recently on the market, so sellers can be up to date with what the market is doing.
Sandi Sacco - Administrative Assistant - Sandi researches property information on listings and enters listings into MLS as well as taking care of booking the use of our FREE moving van.
Sally Christner - Administrative Assistant & Office Manager - Sally keeps our Scarborough office running smoothly and researches information and enters listings into MLS for our Scarborough location.

Karen Gruver- Marketing Director/Designee/Trainer - Karen creates marketing and promotional material, working closely with Brenda to develop new marketing ideas in an ongoing basis. She also handles all direct mail, e-mail marketing and internet marketing and further development on the brendafontaine.com website. Karen also handles all social media such as Facebook, Twitter, Pinterest, Instagram, LinkedIn and YouTube. She also works closely with Brenda on the day to day workings of the office and works helps with training.

Tammy Soucy - Field Coordinator - Tammy takes the pictures of each property as it is listed for sale and installs signs and lock boxes.

This completes The Fontaine Family Team. Each of our Realtors® play an important role in the home selling process and are committed to giving you superior service!