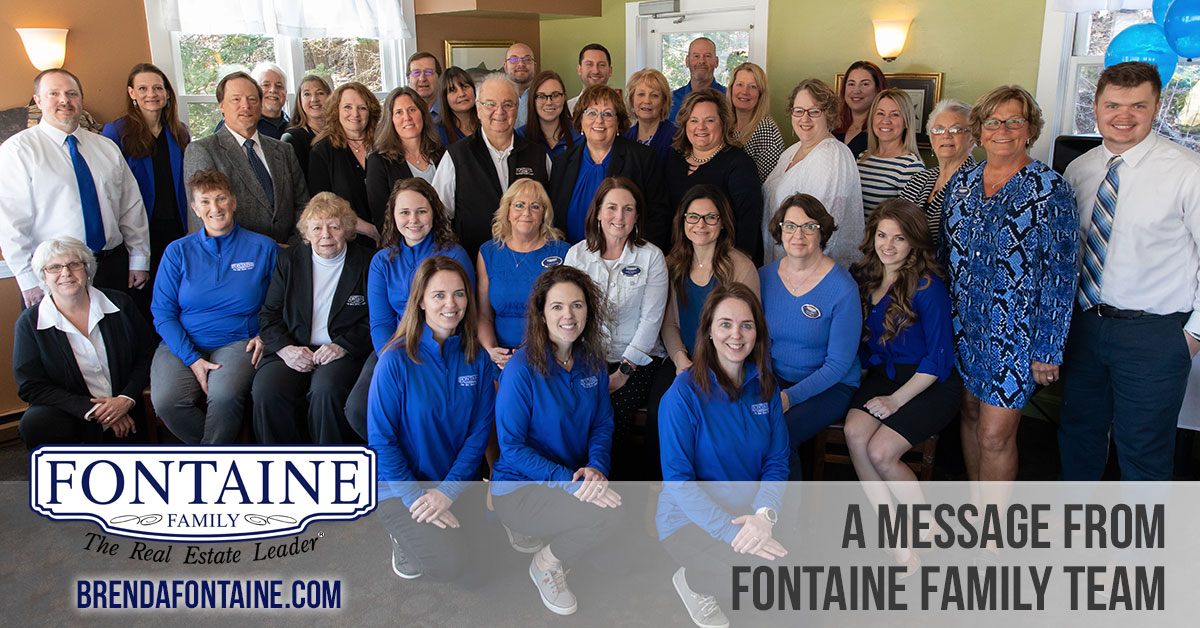 March 30, 2020
Our Continued Response to COVID-19
At Fontaine Family Team we continue to be mindful and proactive regarding our business practices and COVID-19. We remain committed to our clients, team, and community and are doing the following for the well-being, health and safety of all.
VIRTUAL SHOWINGS
We are now offering virtual showings to buyers and individuals who may have concerns about viewing a home in-person
This is a great option to stay in-line with suggested social distancing procedures
Agents can coordinate virtual showings via a video or FaceTime
WHEN PREPARING TO VIEW A HOME
Viewing groups are to be kept to decision makers only
If you or anyone in your family has felt unwell in the past 14 days, we ask that you hold off on in-person showings at this time
Concerned? Reach out to your agent before the showing to get a sense of what to expect and how you can do your part in keeping everyone healthy and safe.
WHEN VIEWING A HOME
Social distancing procedures will be in use
Hand sanitizer must be used upon entering and exiting a home
Hand washing after entering, if soap and paper towels are available
Remove shoes/use shoe coverings as instructed by agent/seller
Use gloves or disinfecting wipes when touching any surface
Minimize contact with surfaces, appliances, cabinets, etc.
ADDITIONAL IMPORTANT INFORMATION
Our No Open House Policy continues until further notice! Talk to your agent about our new virtual open house option or Facebook Live open house.
Our offices are open for business allowing agents and staff to have access to the office as needed.
Many paperwork and meeting procedures can be completed virtually. Talk to your agent about these options.
WE ARE HERE FOR YOU! Please do not hesitate to reach out if you have any questions or concerns.
207-784-3800 Auburn or 207-289-3830 Scarborough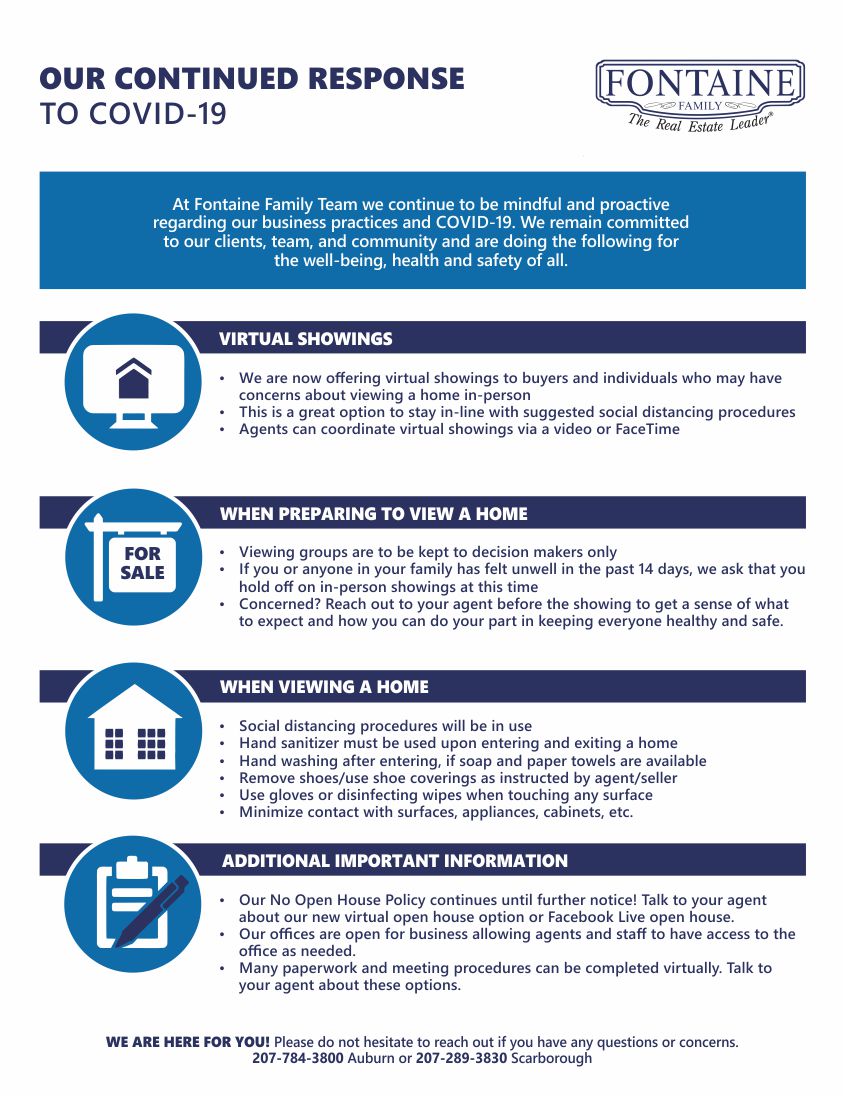 ---
March 26, 2020
Real Estate Deemed "Essential Business"
The Commissioner of Maine's Department of Economic and Community Development has made the determination that real estate services are "essential business" and can continue with the following restrictions in place:
In-person open houses are prohibited
During all interactions, CDC and the Executive Order guidelines for personal and work site safety should be followed, including: physical distancing, group size, and health and safety precautions
Gatherings of more than 10 persons are prohibited
The Governor and DECD Commissioner are urging remote work to the maximum extent practicable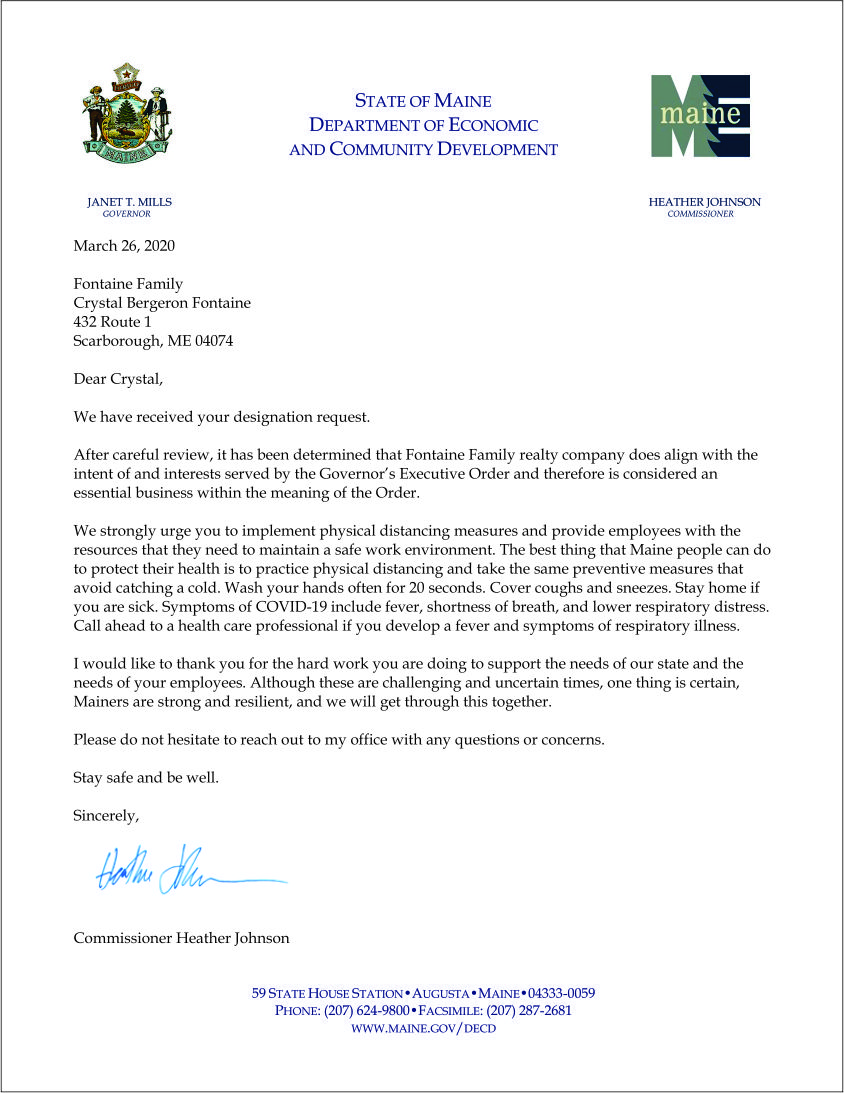 ---
March 19, 2020
Dear valued clients and customers,
We are open for business and have taken proactive measures to prevent the spread of the virus.
We want you to know that we've been thinking about you, our employees, and our team, and everyone else in our family during these times regarding Covid-19. Your health is our top priority above everything. We've made some changes on how we operate with the goal of continuing to deliver the same world class service we've been known to offer, while reducing any public health risks.
Here's what we are doing to help you.
We have been following guidelines set by the Maine CDC for recommended operations including more frequent cleaning and more attention to disinfecting and cleanliness for everyone's safety, our clients, customers, staff and agents.
· Buyer agents and Buyers will apply hand sanitizer at entryway of home before showing.
· Safe distance will be maintained between each person.
· Agents ask home sellers to leave hand sanitizer at entrance for extra precaution.
You can count on the Fontaine Family Team to be understanding of your needs and to customize a plan that fits you personally.
Stay healthy,
Brenda Fontaine, Broker/Owner
---
Is your home currently on the market or are you considering selling?
Following the guidance of our local and national experts, we have suspended the practice of traditional open houses and showings until further notice. However, we remain especially committed to our clients to allow the ability to show your home to prospective buyers. We have implemented other solutions such as virtual (live streaming) open houses and video showings. When we have a buyer that wants to see your home in person, we have adopted the following best practices during these showings to ensure that your home remains as safe as possible:
We confirm that all visitors are not feeling sick or displaying signs of illness
We request that all visitors to remove shoes or wear booties
We request that all visitors wash hands with soap and water upon entering (or use hand sanitizer and/or gloves, if available)
We request that only decision-makers attend the showing
We request that visitors look, but not touch anything in the home. If a buyer requests cabinets, drawers or doors to be opened, agent will use disinfectant on any door knobs or cabinets that agent was requested to open
We request that all parties maintain the recommended social distance of 6 feet whenever possible
When we leave the house, we will leave you a note explaining how many visitors have been in the home and what precautions were taken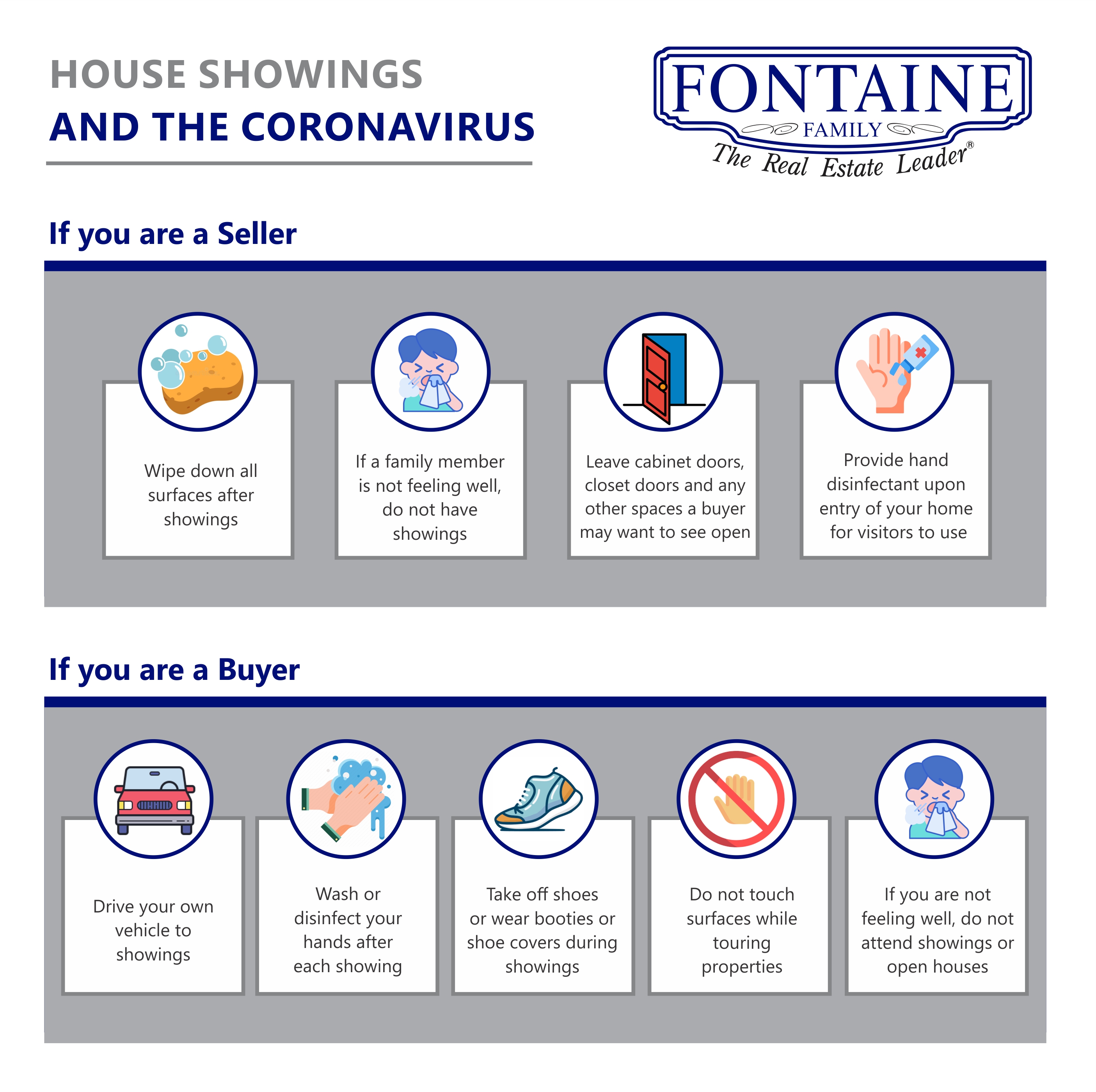 We still have sellers who need to sell and buyers who need to buy despite the COVID-19 pandemic. We are still open for business while taking precautions with our protocol for safety, smart marketing, virtual showings, Facebook live open houses, and more. We're still here to help you if you need us and can respond to your calls 8am -8pm, seven days a week.
If you have any questions or concerns, please do not hesitate to contact your agent. If you're not currently working with an agent, click here to contact us, and we will return your message as quickly as possible.
---
The latest news and guidance affecting the real estate industry in Maine
The health, safety and welfare of each member of our team, their families and our clients is always our top priority. As a result, we've been closely monitoring the outbreak of COVID-19 in order to make the necessary decisions regarding our operations. It is an unprecedented situation, so as we navigate the next couple of weeks our response may change. The situation surrounding the COVID-19 coronavirus continues to evolve, so we find it imperative to take extra precautions to ensure the ongoing safety of our team and our clients.
Rest assured that we are working closely with our agents to ensure that we are able to conduct all real estate business with as little interruption in service as possible. We enacted new procedures and best practices for conducting showings, open houses, closings, and other in-person transactions. We're thankful for the technology we have available today, as much of our business can be done virtually with email, electronic signature programs and web conferencing.


Helpful links: