6 Questions To Ask Before Choosing Your Real Estate Agent May 8, 2019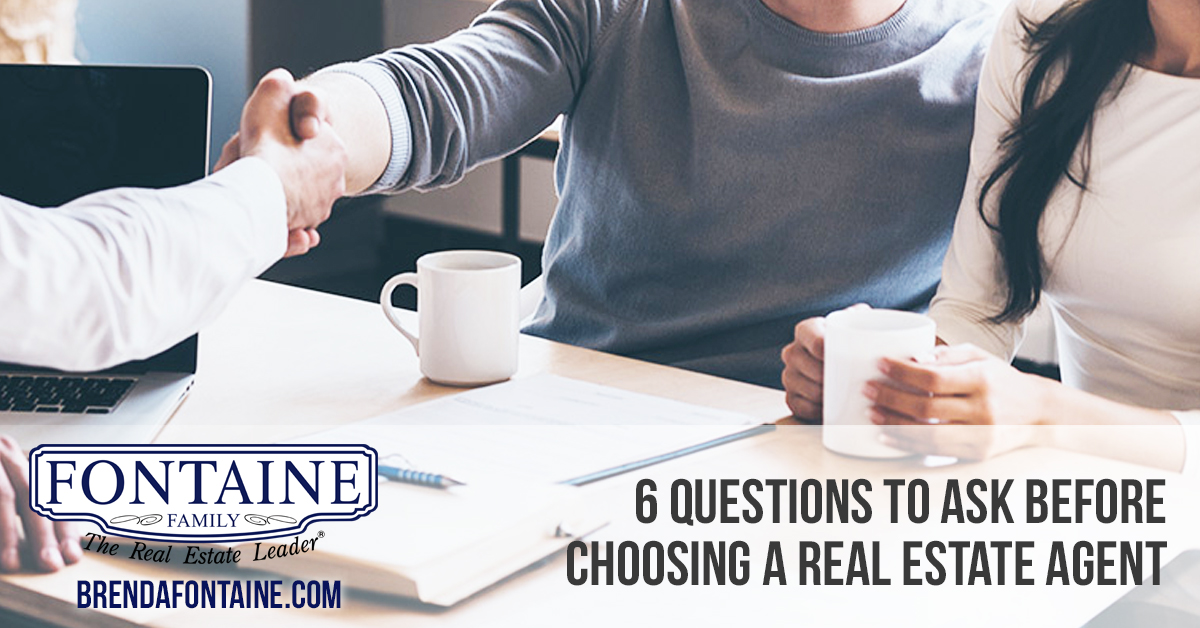 Real estate agent ads are everywhere! We're sure you've seen one or more of these already today: yard signs, online ads, newspaper ads, direct-mail postcards and even ads on public transportation. We understand, cutting through the advertising hype and finding the right agent can be tough. That's why we're here to help!
Whether you're thinking of buying or selling a home, there are a few things you should consider before selecting a real estate professional that will work for you.
1. What is their listing history?
Buying or selling a home is a huge decision, possibly the biggest decision in your life, and most real estate agents expect to prove themselves to you before you hire them. Ask agents to provide a current list of properties they've listed and sold in the past year, with contact information (if possible) so you can follow up with past clients. Having them provide a list of testimonials from prior clients would also be helpful.
For the properties that have been sold, have them also provide what the listing price was and also what the property sold for. If you're selling your home, ask whether any of the agents previous properties were similar to yours in price, location and other key features. And finally, ask how long the agents listings were on the market before they sold.
2. What is their knowledge of the area?
You want an agent who's on top of the market - who knows about other similar properties in the area and can answer questions quickly if you have any. Keeping up with the new, current and coming soon listings will help you tremendously because timing is everything when making an offer on a home. Last thing you or your agent wants is missing out on your dream home because you missed the listing coming on the market.
3. How long have they been selling real estate?
While this is a pretty self explanatory question, it includes more than just a number of years. Sometimes experience doesn't necessarily equal time in the business. An agent who has experienced different situations in their career is less likely to be rattled should any bumps be encountered down the road.
Considering real estate is a commission based business, it would be very difficult for an agent to survive for a long time providing awful service. Adding value to your service and making sure the client knows their interests come first is what sets a great real estate agent apart from an average real estate agent.
4. Are they part of a team?
If you have never worked with a real estate team in the past, there are considerable benefits having all team members work together for the same purpose - to find your dream home! Having a team on your side provides a wider level of experience, from paperwork to professional photos, with the team members assisting your agent every step of the way to make the home buying or selling process go as smoothly and quickly as possible.
Here are just a few benefits you could expect from all team members:
educating clients on the process

carefully listening to needs and concerns

being extremely responsive to calls, texts, and e-mails

Preparing clients for what should happen next
5. Do they have a recommended vendors list?
An experienced agent will have developed trusted relationships with other industry professionals over their many years in the business. Oftentimes the house you are buying or selling may need some work done before the final sale goes through, so having these professionals at your agent's disposal is very valuable. From contractors and electricians, lenders and title companies, your agent should be able to refer you to multiple sources so you can ultimately choose the best company for your needs. These are simply recommendations, nothing more – you have the right to choose who you work with every step of the way.
6. What questions do they have for me?
This quite possibly could be the most important question you should ask your next real estate professional. Their true mindset and priorities should be revealed in the questions they ask you! Anyone can ask how much you want to sell your house for or how many bedrooms or bathrooms you want in your new home. But if an agent takes the time to get to know you, your goals and your priorities, this is an excellent indicator he/she is prepared to set a solid foundation of client-centered service, and there is no substitute for that. Choose an agent that works for you!!
------------
Well informed homeowners choose The Fontaine Homeselling System to obtain them top dollar faster, along with a stress free experience. We know buying or selling a home can be very stressful and emotional, but when you have an experienced, top-producing agent on your side, you are more likely to have a smooth and successful home sale. Contact one of our agents today to start the process of finding your forever home!
Fontaine Family Team
Auburn - 207-784-3800
Scarborough - 207-289-3830
View all listings online: BrendaFontaine.com