6 Realities Buyers and Sellers Should Know Now April 16, 2020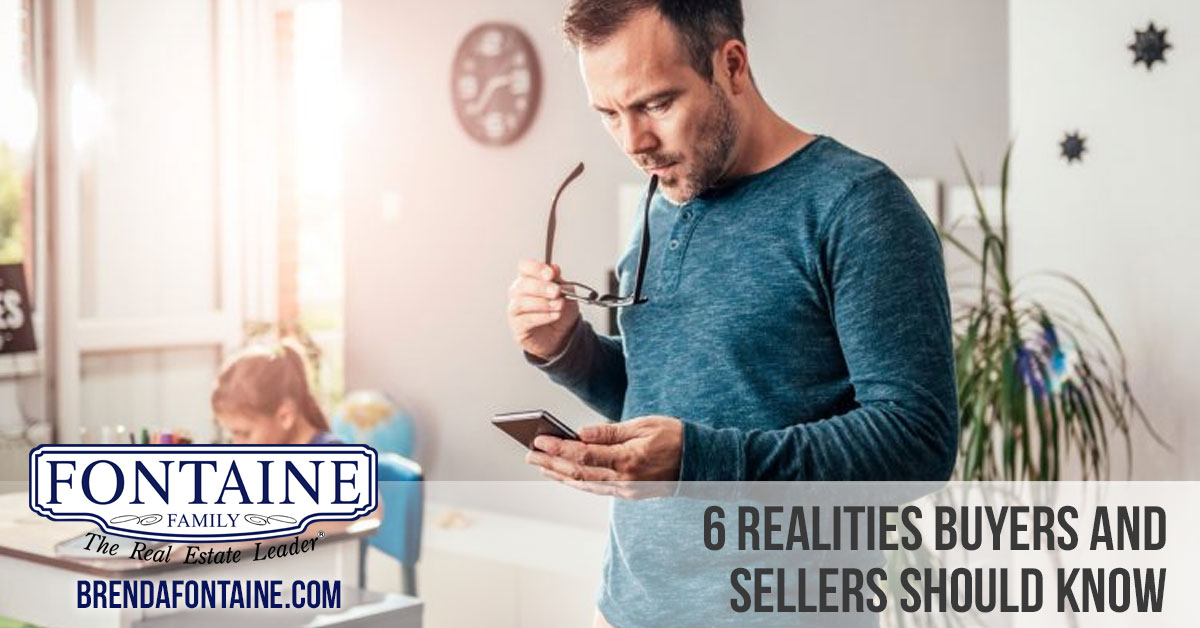 What happens if you find your dream home in the midst of a worldwide health crisis? While there are so many variables that can't be predicted or prepared for in this new state of existence, people's need for housing is a constant. Although the process may not be seamless -- even the best-laid plans can fall apart -- here are six things every buyer and seller should know when it comes to transacting real estate during this tough time.
1. The buying and selling process has changed
While we are putting preventative measures in place, please know that in-person showings involve the risk of potential exposure to the properties you're seeing and also those who live there. Not every seller or occupant may be comfortable with strangers going into their home at this time. You might be asked to remove shoes or wear booties, use hand sanitizer upon entering and leaving and be asked to refrain from touching anything during a showing. Buyers might also be asked to keep the viewing time to a minimum versus an hour or more spent sitting on the couch or standing around the kitchen island and envisioning yourself living there.
You'll also want to keep in mind activity will be different for every property on the market. Just because there haven't been any showings in two weeks doesn't mean there aren't potential buyers for your home. With everyone spending a lot of time at home and most likely in front of a computer, anyone who's in the market to buy a home will be taking this time to research online. Your real estate agent will be key to generating interest on the property through videos and posting on social media channels. It is possible to get an offer based on the video alone, especially when physically seeing a property might not be an option. Your agent can also host a virtual open house to spark interest for potential buyers without physical interaction.
Remember this: Patience is also a virtue for any seller trying to sell right now. This is an unprecedented time and we're unfamiliar when it comes to knowing what the pace of showing activity should be. While it might seem like buyers are few and far between, once COVID-19 starts to wane, showing activity could bounce back in full force.
2. The transaction will likely be socially distanced
The National Association of Realtors (NAR) have put in place guidelines during the health crisis, which include asking buyers and prospects about travel history and potential exposure to the coronavirus or asking if clients or anyone they've been around has been sick or has a fever. Buyers or sellers should not take offense if they're being asked these questions by anyone involved in setting up a showing appointment — whether it's our support staff, the listing agent or another brokerage. Under these circumstances, a seller has the right to limit the number of potential visits to their home. This doesn't mean they don't want to sell the home - it simply means they have to be responsible about how they handle it.
Buyers should understand that they will not be meeting with their agent at our real estate office and might need to decide upon a mutually agreeable location. Phone and video chat will be used more often in times like this. If your agent meets you at a home, they will ask that you drive in separate cars and practice safe social distancing. They might even have the home open for you to view while they stay outside and request any follow-up conversations be conducted via phone or video chat after the showing ends.
Remember this: With movement restricted throughout the country, until people are able to roam as they please, social distancing will be the new normal in real estate.
3. Now may not be the time to make a deal
When making an offer on a home or property, you might be tempted to throw out a low-ball offer to see how anxious they are to sell. There might even be some buyers that feel as if they are entitled to a deal during these unusual circumstances. While you certainly can still negotiate, we suggest you consider making a fair offer. You might be surprised to find that you will get further with a seller that way, versus starting too low and asking more from them. Buyers could still get a reasonable discount from the asking price by taking a more level-headed and respectful approach. Whether you're buying or selling, it's important to stay flexible and focus on the process instead of the outcome.
Remember this: This is an uncertain time on so many levels and we don't know how this economy could affect real estate in the long run. While there are sellers that need to sell and buyers that need to buy, submitting an offer at this time cannot be taken lightly. The all or nothing approach may end up costing you that dream home you've been looking for.
4. Delays will inevitably happen
Right now, life isn't going according to anyone's plan. Major events such as graduations, anniversary parties, concerts and weddings are being postponed or even cancelled. The same is likely for a real estate transaction. Whether you are a buyer or a seller, understand that there may be delays with all aspects of the process as human interaction is compromised over the next few weeks or even months. Inspections, appraisals, loan processing and underwriting, as well as getting the package from the lender to the title company and issuing a closing date, will be challenging during this time.
Inspectors face potentially hazardous work and to take special precautions now like never before. Their job entails physically touching and testing numerous components in a home, many of which could be germ-infested. Appraisers also face a similar risk by having to physically enter numerous properties to do their job.
We're advising buyers to allow themselves plenty of time if they need to terminate a lease or plan for an extra month or two to vacate a rental versus cutting themselves short. There could also be challenges encountered with hiring moving crews during this time. Ask your agent about addendums that address delays in transactions due to the coronavirus that help keep the transaction moving along, as well as offer the need to cancel the transaction and etc.
Remember this: A closing date is just that — a date. And while everyone can do their best to make that date, in this current situation we're dealing with circumstances beyond anyone's control. Buyers and sellers need to be flexible and understanding with each other regarding obstacles out of their control during this time.
5. Adjust your expectations
We're living in unprecedented times. No one has all the answers — and that includes real estate agents. While people are doing their best to obtain information and updates from local, state and national Realtor associations, along with national, state and local officials, the situation is rapidly changing. What happens today might be drastically different tomorrow. You might have money in the bank and a secure job now, but if this pandemic has shown us anything, it's that every day something is changing. What we have today might not be what we have tomorrow, next month or next year.
Remember this: While things might appear to be doom and gloom right now, it could be a dramatically different and positive picture a few weeks from now. Don't be afraid to ask questions. We're all in this together and will come through the other side stronger than ever.
6. Accept that you might not have everything under control
It can be easy to panic at the thought of the unknown. Will things get better when many of the "temporary" closures and lock downs are supposed to end or will they be extended even longer?
Typically, our agents are able to educate sellers that their home sale should take approximately "x" amount of days (or months) based on sales of other homes in the neighborhood. We also inform them that their property should sell around "x" percent of their asking price, based on what has happened over the last 60, 90, 120 days, etc. Achieving those same results might not be possible now or in the next few months, and everything is up for grabs.
Although outcomes are uncertain at this time, there are processes we can control. This means staying the course and not overreacting. Sellers don't have to suddenly pull their homes off the market and buyers don't have to abandon their property search right now. If clients are in a position to do so, they can put the current mortgage market to work for them. Never before have buyers been able to leverage their purchasing power. This same purchasing power may enable a buyer to get into their first home, a move up property or their ultimate luxury dream home.
Remember this: No matter what, it's important to remember that everyone has to live somewhere. Our homes have never been more important to us than right now. They are a place of solace, respite, work and the ultimate shelter from the storm — no matter what kind of storm that is.
Bottom Line
We know your home is the one sacred place where you can work through challenges, celebrate the happy times and simply relax. We understand that the effects of the COVID-19 outbreak are causing changes to our everyday lives. Remember that everyone else is in the same situation and although it may be an uncertain time, we can choose to help spread hope instead of fear, be there for others, and be a difference maker in our home and community.
------------
Well informed homeowners choose The Fontaine Homeselling System to obtain them top dollar faster, along with a stress free experience. We know buying or selling a home can be very stressful and emotional, but when you have an experienced, top-producing agent on your side, you are more likely to have a smooth and successful home sale. Contact one of our agents today to start discussing the process of selling your home and/or finding your forever home!
Fontaine Family Team
Auburn - 207-784-3800
Scarborough - 207-289-3830
Search all Maine homes for sale here: BrendaFontaine.com