7 Reasons To List Your Home This Holiday Season December 4, 2019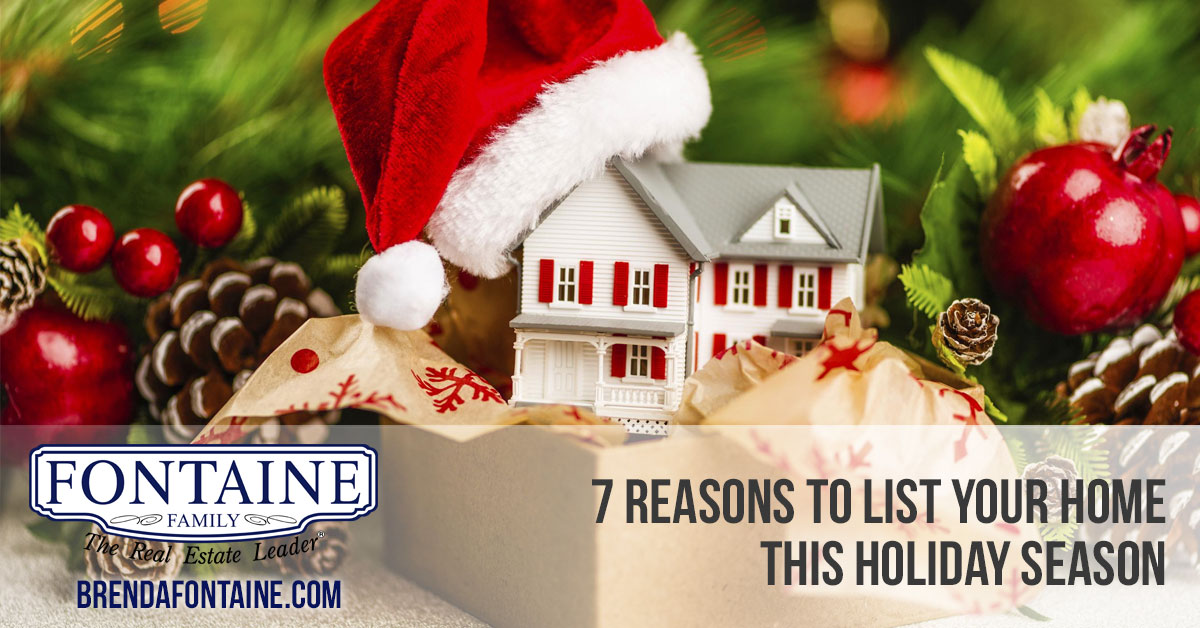 With the holiday season upon us, one of the top frequently asked questions we hear about selling a home is "should I sell my home during the holidays?". Depending on who you discuss this topic with, you're going to receive mixed opinions.
Many homeowners decide to wait until after the holidays to list their home for one reason or another. And it may be simply because the holidays tend to be so hectic that the addition of selling a home is too much for them. Similarly, others who already have their homes on the market might decide to remove their listings during the holidays and relist in the spring. Let's unpack the top reasons why listing your house now or keeping it on the market this winter may be the best choice you can make.
1. Relocation buyers
Many companies are still hiring throughout the holidays, and they need their new employees to start as soon as possible. December is a very popular time of the year when relocation buyers are thinking about or are preparing to move to a new city or state. Many relocation buyers will need to be in their new city or state right after the new year begins. This alone is a great reason to list your home during the holidays and not wait until after the new year or the spring real estate market.


2. Motivated buyers
Purchasers who are looking for homes during the holidays are serious buyers and are ready to buy now. Motivated buyers shop all year and the desire to own a home doesn't stop during the holidays. Buyers who were unable to find their dream homes during the busy spring and summer months are still searching, and your home may be the answer.
3. You're in control
There is nothing convenient about selling a home. You may have to leave several times throughout the day to accommodate showing requests while people are walking through your home. Listing your home during the holidays allows you to place restrictions on showing times that you might not otherwise get away with during the peak spring market. Since there are fewer homes for sale during the holidays, buyers are less likely to get upset if you cannot accommodate a showing because they simply will not have the abundance of options. However, we always suggest you try to be as accommodating as possible to not lose potential buyers.
4. Homes show better
Holiday decorations enhance the ambiance and make a house feel like a home. The holiday season is also a popular time for homeowners to bring out their inner chef and baker skills. Cookies, pastries, and holiday dinners created during the holidays means your home is going to smell amazing during showings. Our best tip to prepare for showings is to ensure that your home is clean, neat, and organized. If you're hosting a party or gathering during the holidays, there's a good chance that you'll be cleaning and organizing every inch of your home anyways.
5. Less competition
There is minimal competition for you as a seller right now. Traditionally late spring to early winter make up the "sweet spot" for sellers, but this also tends to be the time when the market has the most listings. However, during the holidays, fewer homes are for sale which may be a great reason to list your home now. This is especially true if your home is similar to many of the homes in your neighborhood. For example, if your home is a traditional 3 bedroom, 1.5 bath colonial and many of your neighbors homes are the same, listing your home during the holidays may be a smart idea. On the other hand, if your selling a high end luxury home that is unique and rare in your area, your competition is unlikely to be high at any time of the year and waiting until after the holidays maybe the best decision.
6. Smoother transaction
The number of homes sold during the holiday season is much less than the number of homes sold during the spring/summer market. With fewer real estate transactions occurring during the holiday season, this means that the professionals involved in your real estate transaction (real estate agents, mortgage originators, home inspectors, title companies) aren't juggling as many transactions. There are a variety of reasons closings get delayed in real estate, one of them being a work overload. And less work overload means they'll able to focus more time and effort on your home sale during the holidays. The result is a smoother, and hopefully on time, transaction.
7. Choose a top real estate agent
Believe it or not, some real estate agents will "take it easy" during the holiday season. This is not the case for top producing listing agents! The two most important factors in a successful home sale are that your home is priced properly and that your home is getting maximum exposure. If an agent is steering you away from listing your home during the holiday season, you need to ask them what their reasoning is behind advising against listing your home. There are always pros and cons to listing a home during the holidays and your real estate agent should be able to explain both to you so you can make an educated decision based on your situation.
Bottom Line
Homeowners who are deciding between whether they should list their home during the holidays or if they should wait and prepare for the spring market, must consider these 7 reasons first before deciding. It may actually make the most sense for you to list your home this holiday season. Let's get together to determine if selling now is your best move!
------------
Well informed homeowners choose The Fontaine Homeselling System to obtain them top dollar faster, along with a stress free experience. We know buying or selling a home can be very stressful and emotional, but when you have an experienced, top-producing agent on your side, you are more likely to have a smooth and successful home sale. Contact one of our agents today to start discussing the process of selling your home and/or finding your forever home!
Fontaine Family Team
Auburn - 207-784-3800
Scarborough - 207-289-3830
Search all Maine homes for sale here: BrendaFontaine.com