7 Simple Ways To Transform Your Backyard May 11, 2020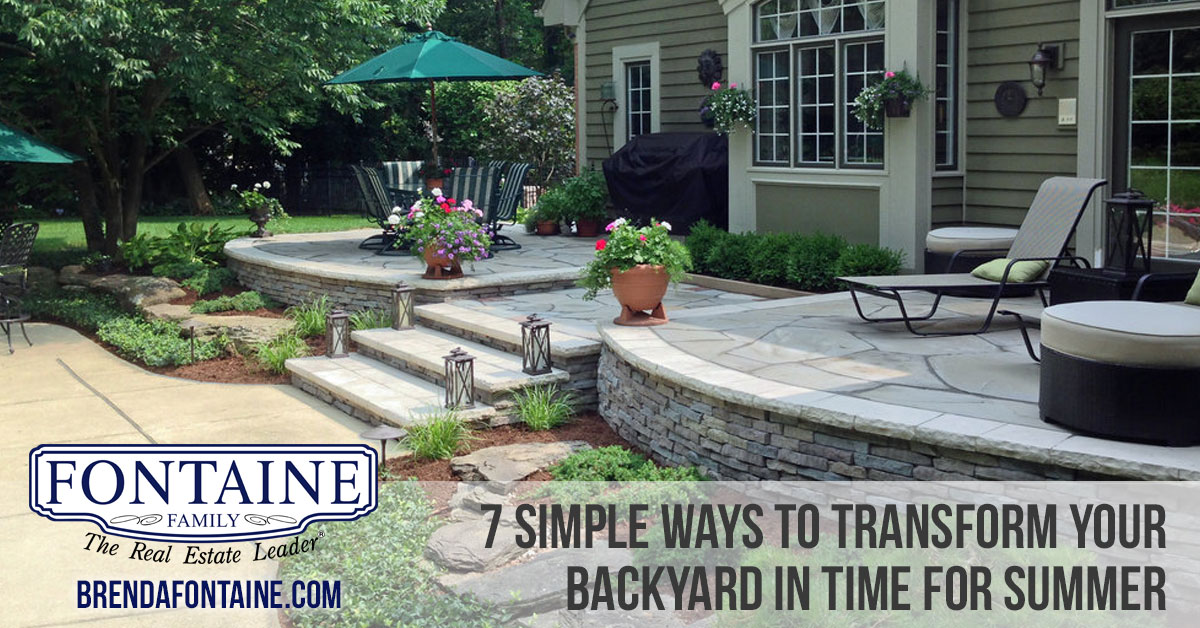 Summer could have a different feel this year. We may be staying home more often, so why not get as much joy out of your outdoor space as possible. Whether you have a small yard, or many acres to care for, you can enhance your lawn and garden in a number of budget friendly ways. If you're not sure where to begin, here's a few of our favorite yard and patio tips, including how to style small spaces and some amazing ways to transform your backyard. Home life has never been more precious than now!
#1 A Total Yard Makeover
Planning to spend a lot of time outside this summer so you decided your backyard needs a total yard makeover. Here's a few tips:
Create Shade: Adding a pergola is a fantastic start when creating your dream backyard. It not only creates shade, but also provides a area on a deck or in your yard that is the ultimate outdoor living room!
Add a walkway: Forge a clear path from your house to the pool or playhouse in your backyard with materials like crushed rock, mulch, bricks, or stones. Add a little flair to your pathway with yard decorations like glow-in-the-dark rocks or garden stakes.
Outdoor Seating: One of the most important features to include in your backyard transformation. Add a dining set and accent decor with lively pops of color. Large outdoor pillows, benches, and rocking chairs are all fantastic pieces to create a cozy space for you and your guests to relax.
Add a Fire Pit: The best backyard designs are the ones that include a fire pit! Build your own fire pit out of budget-friendly wall stones. Just be sure to include ample seating around your fire pit for roasting marshmallows!
Outdoor Kitchen: Turn your backyard into the supreme spot for entertaining guests! A charcoal grill and table on a patio is great for a simple look. Or install a kitchen kit under a pergola including an island, grill, storage, and refrigerator.
Don't forget the Lawn Games: No yard makeover is complete until you set up lawn games. Croquet, bocce ball, ladder golf, and bucket ball are all awesome ideas for including recreation in your backyard green space.
#2 Pretty Up Your Patio
Jazz up your patio space with an outdoor rug! Not only is this a good way to include a pop of color in your backyard, but it's also an inexpensive way to change up a space without having to go through the process of painting or staining a deck.
Simple backyard ideas on a budget always include flowers. They are an ideal for adding a natural pop of color to any landscape and create the perfect area to chill out. Plant hydrangea bushes or tulip bulbs along the fence if you have a major green thumb. Or go to your local plant nursery and buy a few pots to fill with your favorite blossoms. There's always budget friendly backyard ideas that include flowers to make your outdoor living space a hangout spot everyone will love!
#3 Upgrade Your Pool Area
Nothing says summer like a well-decorated pool area that's ready for warm sunny days and relaxing summer nights. Sunbathe in style on a outdoor chaise or daybed, or enjoy an evening drink by a fire pit. Large umbrellas provide shade on sunny days, and simple accents like an outdoor rug give dimension to the space. Plants always look great around the pool, and somehow make you feel like you're in a tropical location or hidden oasis! Paint a repurposed crate or container to use for storing towels, small pool toys, and more. Sometimes you're in the pool, and you just don't want to get out for that cool, refreshing drink. Create a floating pool bar by using an inflatable baby pool, add ice cubes and drinks of your choice.
A hammock is a fun backyard idea that both kids and adults will appreciate. Suspend a hammock between two trees and fasten the ropes with either industrial hooks or tree straps. Affordable hammocks with stands are also an option if a sturdy tree isn't available.
#4 Turn a Tiny Space Into a Mini Escape
Stringing twinkly party lights around the edge of the roof or on trees, will make your patio seem larger and give you something to look at. Put a bouquet flowers in a pot, hang some flower-themed art on a wall, or upholster your furniture in a bright floral print to add color to any small patio or deck. Add character to your small space with a tropical style tiki bar and a selection of colorful barware to make all the difference in your new space.
#5 Add a Water Feature
Drown out the noisy traffic while creating a dramatic focal point with a water feature, such as a bubbling birdbath or wall fountain. Choose an element with a black bottom, which will create a darker surface that reflects sky and trees, making your outdoor space feel bigger. Tuck the fountain away in a small garden or place it on an end table as part of your decor. Just make sure your water feature doesn't overwhelm your porch if your working within a limited space.
#6 Create an Outdoor Garden
Ever heard of a vertical garden? Whether you're looking to expand your garden without taking up horizontal space or searching for small backyard ideas, wall planters are terrific for changing your outdoor area on a budget. The experienced carpenter will love this custom DIY vertical planter. But if you're looking for something simpler, drill plastic planter boxes or pots into a wooden pallet to place against your house.
You've seen trellises in garden centers before, but probably never thought about adding one to your backyard. These architectural details can add a quick and easy accent in the yard. Try placing one toward the back of the garden as a focal point, or using it to mark the entrance to a sitting area or vegetable bed and add a flowering vine plant on either side.
#7 Add Privacy From Your Neighbors
If you're tired of looking at the neighbor's swing set or noticing your neighbors gaze at every backyard party, now's the time to put space between you and them with a privacy fence. Installing a lattice fence is a great way to be polite but effective! Then on the side of your patio closest to the neighbors, train a fast-growing leafy vine to climb up the side of it. The greenery looks nice while providing the much needed privacy. A row of big planters filled with tall evergreens along the patio's edge is another great way to decorate your space.
Are you inspired to give your outdoor living space an upgrade?
A backyard makeover doesn't have to be costly to be luxurious. Sometimes, the right accent lighting, patio furniture, and DIY magic are all you need to create the dream yard you've always wanted.
------------
Well informed homeowners choose The Fontaine Homeselling System to obtain them top dollar faster, along with a stress free experience. We know buying or selling a home can be very stressful and emotional, but when you have an experienced, top-producing agent on your side, you are more likely to have a smooth and successful home sale. Contact one of our agents today to start discussing the process of selling your home and/or finding your forever home!
Fontaine Family Team
Your trusted advisors since 1983!
Auburn - 207-784-3800
Scarborough - 207-289-3830
Search all Maine homes for sale here: BrendaFontaine.com