Safety Guidelines When Selling or Buying June 4, 2020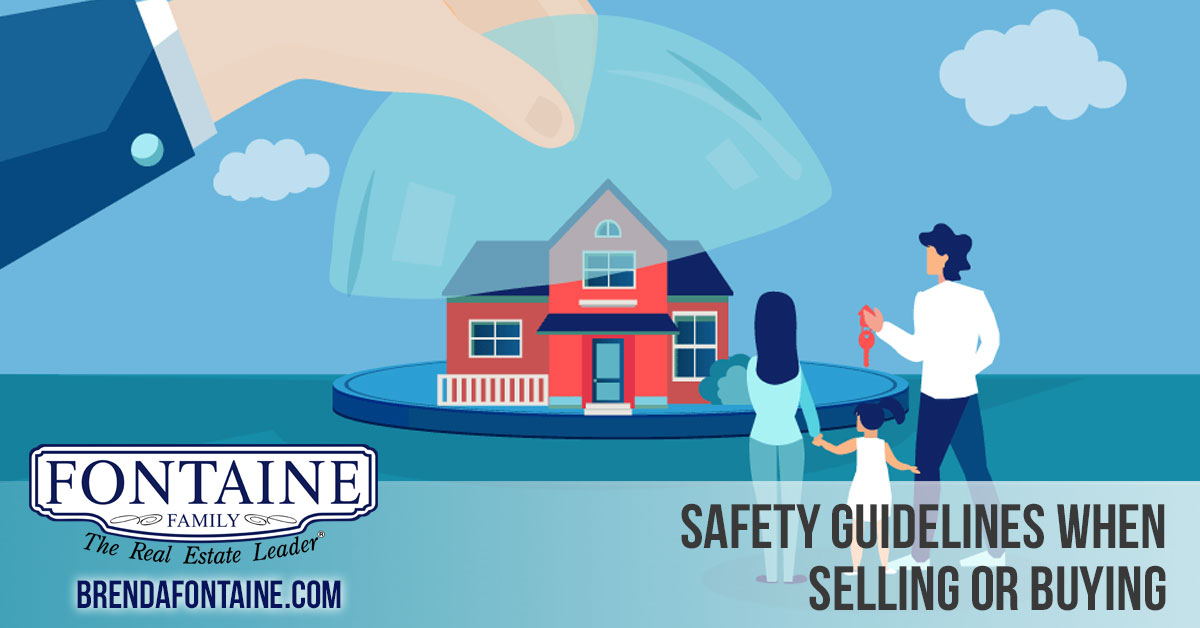 We're not only dealing with a health crisis right now, but also a serious inventory crisis in the real estate market.
The coronavirus pandemic continues to impact the real estate industry from a shortage of homes for sale, to virtual open houses and showings and the socially distanced closing process. New safety practices are requiring buyers and sellers to quickly adapt to extraordinary circumstances. While it's not "business as usual" we can assure you every precaution is being taken to ensure the safety of our clients and agents during your real estate transaction. The situation surrounding the COVID-19 coronavirus continues to evolve, so we find it imperative to take extra precautions to ensure the ongoing safety of our team and our clients.
We still have sellers who need to sell and buyers who need to buy despite the COVID-19 pandemic. We are working closely with our agents to conduct all real estate business with as little interruption in service as possible. We've enacted new procedures and best practices for conducting showings, open houses, closings, and other in-person transactions. We're thankful for the technology we have available today, as much of our business can be done virtually with email, electronic signature programs and video conferencing. Our agency is open and conducting business in a safe manor using the following safety guidelines to assist our clients throughout the entire real estate process.
Basic COVID-19 Safety
We continue to practice safe social distancing, utilize electronic means for the execution of all forms and legal documents. Agents must wear face coverings, one-use disposable gloves or hand-coverings and shoe coverings (are at the seller's discretion) while inside a home. Many agents are committed to wiping down any surfaces that are touched while inside a property to ensure cleanliness for everyone involved.
Buyer & Seller Consultations
The use of Zoom, FaceTime or other video conferencing tools allows our agents to consult with their clients virtually and provide a whole new option to get the process started. Our agents will offer to conduct a virtual walk-through if the client is uncertain about entering a home in-person.
Photography & Online Marketing
Our team photographer will enter your home alone, when the house is empty, will wear personal protective equipment and not touch or move anything. We then give your listing maximum exposure by submitting it to a large syndication network, along with posting on our social media platforms. Your listing will spread automatically to some of the highest trafficked home search sites on the internet. Additional alternative online marketing opportunities allow us to continue to serve you and market your home.
Virtual Open Houses & Showings
Virtual tours allow buyers to feel like they can step inside the home anytime of the day. When you choose The Fontaine Homeselling System you will stand out from the competition! Fontaine Family Team offers all sellers Matterport, the marketing tool of an immersive 3D property scan with new 4K definition that's not possible with still photos or 360 tours. It feels like you're walking through the home in person right from the comfort of your own couch!
Easy Navigation in desktop & mobile view
Dollhouse View to show property layout
3D Floor Plans
Virtual Staging available on vacant homes
Our team photographer will create a realistic digital virtual tour of your home with our Matterport camera enabling homebuyers to explore and evaluate properties online with ease without stepping foot in your home.
In-Person Showings
Our guidelines for strict pre-qualification ensure anyone allowed inside a property is a serious buyer. We have adopted the following best practices during in-person showings to ensure that your home remains as safe as possible.
We confirm that all visitors are not feeling sick or displaying signs of illness
We request that all visitors to remove shoes or wear shoe coverings
We request that all visitors wash hands with soap and water upon entering (or use hand sanitizer and/or gloves, if available)
We request that only decision-makers attend the in-person showing
We request that visitors look, but not touch anything in the home. If a buyer requests cabinets, drawers or doors to be opened, agent will use disinfectant on any door knobs or cabinets that agent was requested to open
We request that all parties maintain the recommended social distance of 6 feet whenever possible
When we leave the house, we will leave you a note explaining how many visitors have been in the home and what precautions were taken
Inspection & Appraisal
Inspections and in-person appraisals when necessary are completed by the building inspector and appraiser only and completed with the necessary investigations and tests independently. Findings can be reviewed together with the buyer via video chat or conducted live while practicing social distancing and wearing personal protective equipment.
Offers & Closing Day
The current use of electronic documents simplify the real estate process and provide a "no-touch" experience. When an offer is made on a home, sellers can now consider the borrower's offer contingent upon financing. For example, some loans are waiving the appraisal requirement. Many title companies, law offices and banks have been able to offer creative ways to keep clients safe while facilitating the closing. Safety measures may include a mail in option, online signature option, drive through window option or a parking lot closing.
---
WE ARE HERE FOR YOU! Please do not hesitate to reach out if you have any questions or concerns.
---
Helpful links:
---
Well informed homeowners choose The Fontaine Homeselling System to obtain them top dollar faster, along with a stress free experience. We know buying or selling a home can be very stressful and emotional, but when you have an experienced, top-producing agent on your side, you are more likely to have a smooth and successful home sale. Contact one of our agents today to start discussing the process of selling your home and/or finding your forever home!
Fontaine Family Team
Your trusted advisors since 1983!
Serving Cities in Southern & Central Maine including Portland, Bangor, Saco, Brunswick, Scarborough, Auburn, Augusta, Lewiston, Old Orchard Beach, Falmouth, South Portland, Cape Elizabeth, Wells Beach, Ogunquit and beyond.
Auburn - 207-784-3800
Scarborough - 207-289-3830
Search all Maine homes for sale here: BrendaFontaine.com