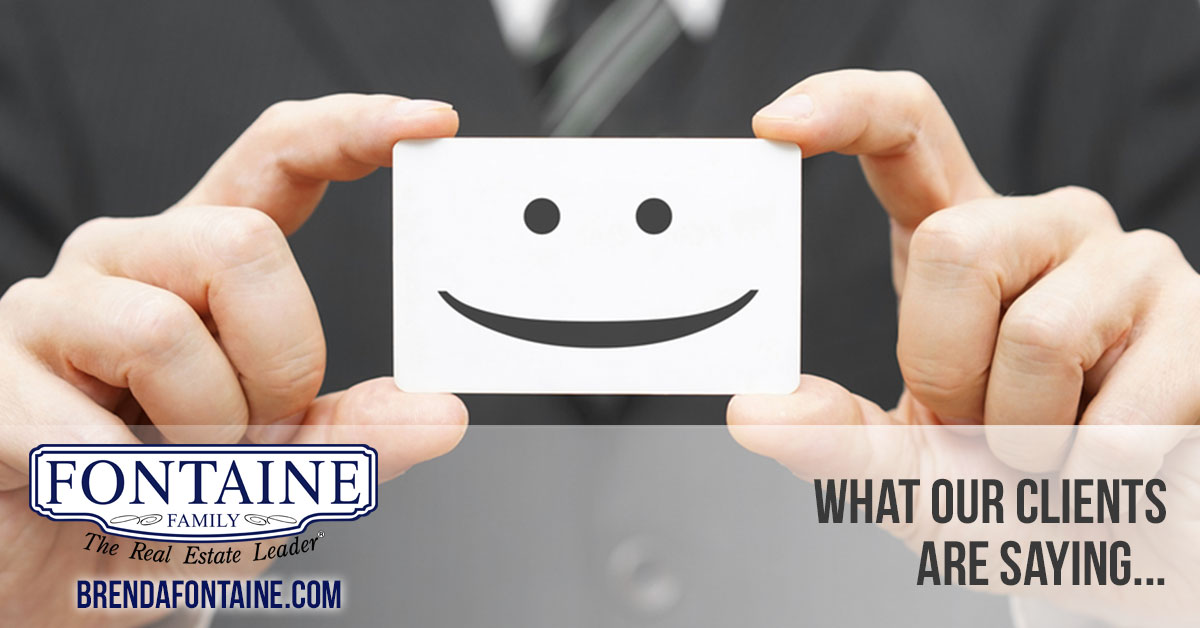 "I am so thankful for the FONTAINE FAMILY TEAM. They were honest, kept in touch, and in my case sold quickly. They were so enjoyable to work with!"

-Irene Lemelin
"The word "TEAM" says it all! On phone, in office and in person Fontaine Team is #1!"
-Joan Ward
"For an honest opinion on your property, from how to stage to items to update, to pricing, you won't get a better team! All were professional and answered questions in a timely manner."
-Tammy Levasseur
"Free use of moving van is a BIG PLUS!! Wide range of advertising and family-type connectedness of staff to client."
-Alfreda Fournier
"Great team - friendly, courteous, keeps you informed on status/updates. Always answered questions in a timely manner."
-Jamie Spear
Click on an agent name to see more testimonials!

"BARBARA MCGUIRE was so helpful and understands Maine people. She worked tirelessly to sell my land." -Carol Belskis
"BILL BERGERON paid attention to details and was quick to return inquiries making everything as easy as possible." -Richard Perreault and Cheryl Sessions
"CARLOS ORTIZ was willing to go the extra mile. We had a great experience." -Nathan and Haley Kulas
"CHAD DOUCETTE always kept me in the loop while looking for homes yet applied no pressure to buy. He was always supportive of my decision. He is knowledgeable and provided professional, friendly, efficient service." -Lisa Lee
"CHARMAINE RABY will get the job done working side-by-side with the owner. I wouldn't think of using any other." -John Story
"CINDY MORIN was friendly and knowledgeable. She stayed in touch and let us know exactly what was happening at all times." -Ann Minkowsky
"CLAY LAROCHELLE was and has been informative, accommodating, fun and most of all, a great broker along this journey. He is like the guy next door you have always known. He sets you at ease and walks you through the process every step of the way." -Pamela Ludwig
"CRYSTAL GARDNER will make sure you find the right home and treat you like family." -Audrey LaFrance
"DAVID VELILLA was friendly, organized, and answered all my questions timely. We had a great experience and found the perfect home!" -Leslie Ogilvie
"DIANE BRULE has a way of making the home buying process stress free! She was on top of everything she needed." -Erin Brown
"DOREEN JACKSON is friendly, dependable and hard working. She will get your property sold." -Jeff Newcomb
"DUSTIN LAROCHELLE was great. Everything was perfect!" -Dan Warner
"GAIL LAPRINO obtained our price in less that 12 hours." -Joshua Giordano
"HARRIET CUMMINGS is a great listener. She is a down-to-earth professional & great to work with." -Jane Averill
"KATHY LEE COOK is friendly, courteous, helpful, and very accommodating. It was a very positive experience." -Darryl and Kathleen Onorato
"KELLY WEBB was knowledgeable, honest, trustworthy, and a go-getter." -Amanda Auger
"KEVIN BERGERON was very persistent and responsive. Customer service was outstanding! Kevin gave us the best experience!" -Suzanne Mitchell
"MARIA MORRISETTE was extremely helpful and resourceful throughout the home buying process. She was our agent for buying our first home. We had worked with another agent and we were disappointed. After working with Maria, it was a clear night and day difference." -Jesse Jarvi
"MARY ELLEN BURGESS was friendly, knowledgeable, and so helpful in assisting me with finding and purchasing a home. She went above and beyond." -Amanda Milholland
"MEGAN FORTIN was motivated to help. She made no false promises and responded promptly to inquiries - good follow through." -Amber Pease
"MICHELE HEADER will take care of everything. You are in good hands" -Ellen McEnaney Jardine
"MICHELLE GOSSELIN was easy to work with, so available by text and was in constant contact with the landlords and code enforcement officers to try and make a deal for me. I would recommend your service to anyone and if and when I need another realtor." -Jayne Day Thornton
"NICK BLAIS was determined. I liked that he was willing to trek through 3 feet of snow. He was prepared with property information." -James and Carol Caron
"NICK TRIDER was always available and worked with our schedule. I feel he went out of his way to find us the home we wanted." -Troy Melanson and Jess Blanchette
"PAT LONG-CRESSEY was confident but not pushy. She tells it like it is and sold our house in 5 days!" -Linda Bowie
"PAUL RONDEAU was very attentive, a good listener, and did a good job understanding us and our needs." -Chris Kellner
"SALLY CHRISTNER treated us wonderfully throughout our whole search." -Greg Barker
"SANDRA GODIN was always available and quick to respond." -Tina & Matt Kaczowka
"TERI CAMPBELL was friendly, attentive, and quick to respond. Everything was perfect!" -Lauren & John Blais
"TIM CYR goes overboard with his services to his clients and is very helpful in all aspects." -Richard & Sandra Cyr